Slack is a channel-based messaging platform
When information is scattered across multiple sources – such as email threads, in-person conversations and tools – getting work done is a lot harder than it should be. In a Slack workspace, work comes together in dedicated spaces called channels. Channels bring the right people and information together for every project, topic or team.
1. Sidebar
Your sidebar helps you break out of your email inbox and switch to a better way of working. It organises conversations that you choose to follow and keeps you up to date.
A. Compose
Write a message from anywhere in Slack using the compose button. Messages automatically save until you're ready to send them, and you can access your drafts at any time from the Drafts section at the top of your left sidebar.
B. Channels
Channels are dedicated spaces that organise your work – by using clear naming conventions, discussions are focused on a specific topic and are easily discoverable.
Some popular channels to use in your workspace:
#team- channels can replace desk chats, regular team meetings and most team emails. Use them to run huddles, ask questions and share best practices.
#project- channels are dedicated spaces for any project to discuss action items, review feedback and make decisions that everyone can follow along with.
Anyone in your workspace can easily join and leave channels as needed (unlike email). To find and join channels, click the + next to Channels and select Browse channels.
C. Notifications
Not every new message in a conversation may be relevant to you. Notifications in Slack are different from email or other tools that you may be used to – they're designed to give you a clear sense of where you're needed by showing you a badge if a teammate mentions you. When there's anything new on a topic, channel names appear bold in the sidebar.
D. Direct messages
Direct messages are where you can have focused, one-on-one conversations when an entire channel doesn't have to weigh in. Use them for ad-hoc messages or tasks, such as rescheduling a meeting with your teammate, or asking them what's for lunch.
2. Channels
Channels are fundamental to working in Slack – it's easy to get up to speed on projects by seeing all of the context, conversations, ideas and decisions that have happened so far.
A. Channel header
The channel header gives you an at-a-glance view of the channel that you're in. You can Star the conversation, see the member count and view other important information.
B. Messages & files
Channels provide you and your team a dedicated space to send messages and share files for a common purpose. When you enter or join a channel, you can scroll up and instantly see all the discussions and decisions made previously – without unnecessary meetings.
C. Emoji reactions
Emoji reactions are a one-click way to respond to any message in Slack. They can often replace the need for follow-up messages. They help everyone stay up to date at a glance and streamline your team's communication in Slack.
Your emoji reaction cheat sheet:
👏:clap: – 'Well done!'
➕:heavy_plus_sign: – 'I agree'
👀:eyes: – 'Looking at it' or 'acknowledged'
✅:white_check_mark: – 'approved' or 'mark it as complete'
3. Message input
You can contribute to the conversation by writing messages, sharing files and mentioning teammates. Thanks to a variety of options, messaging is flexible, helps keep everyone up to date and allows you to get work done quickly.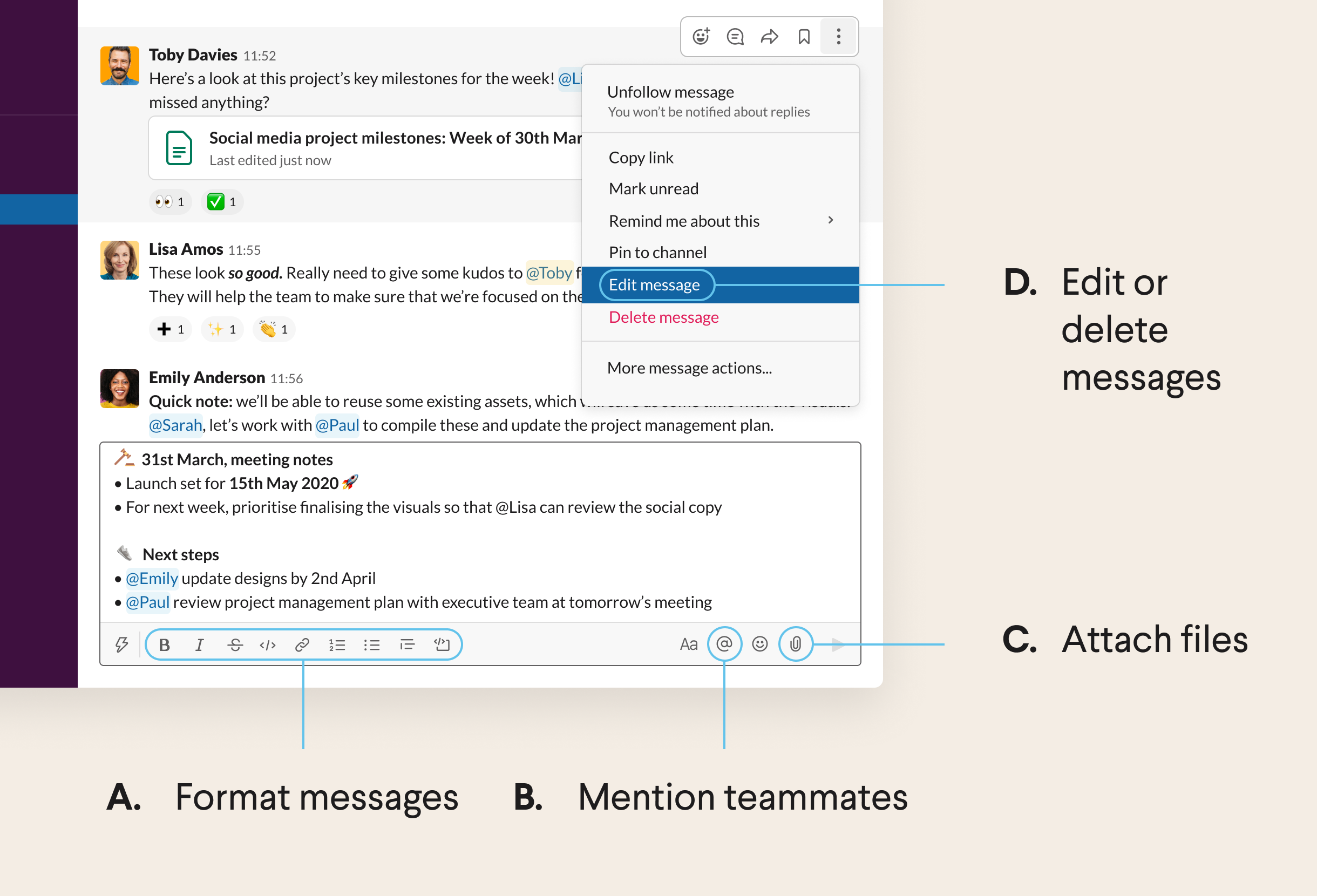 A. Format messages
Message formatting allows you to change the appearance and structure of your messages to add a little clarity or pizzazz – you can bold the most important items, break down thoughts with bullets and more.
B. Mention teammates
Use mentions in a channel to get the attention of the right person at the right time. Foster collaboration by using mentions to ask for feedback, or bring someone's attention to specific updates and action items.
C. Attach files
Share files in a message directly from your computer or a cloud-based service to have the right information alongside your team's discussions.
D. Edit or delete messages
Unlike email, you can correct a typo if you spot a mistake after you send a message. You can also delete a message that you've already sent so that you can start again.
4. Help
Access the help menu to find additional resources. Get quick access to the Help Centre, learn about keyboard shortcuts and keep up with the latest from Slack.
Nice one!
Thanks a lot for your feedback!
Got it!
Thanks for your feedback.
Whoops! We're having some problems. Please try again later.