From channels to search – learn how Slack works from top to bottom.
Want to learn more about setting up your team? Look no further!
Supplemental Slack info for you and your team.
If you're curious about what's new in Slack – and what's changed – you're in the right place.
Adjust your profile and preferences to make Slack work just for you.
Connect, simplify and automate. Discover the power of apps and tools.
Welcome to Slack! Nice to see you here. Let's get started!
Tips and tools for beginners and experts alike.
Use a passcode, fingerprint or facial scan to sign in to Enterprise Grid on mobile
If an Org Owner requires secondary authentication for your Enterprise Grid org, all members will need to use a passcode or biometric authentication, such as a fingerprint or facial scan, to sign in to the Slack app on iOS or Android.
Set up secondary authentication 
From your mobile device, open the Slack app.
Follow the prompt to set a six-digit passcode that you'll use to access the Slack mobile app.
If your device is compatible, you'll have the option to set up a fingerprint or facial scan to sign in.
Once you've set this up, the Slack mobile app will load and you'll be able to access the workspaces in your Enterprise Grid org.

What to expect
Authentication
With secondary authentication, you'll need to use your passcode, fingerprint or facial scan to access the Slack mobile app. Org Owners can choose to have you authenticate every time you re-open the mobile app, or they can require authentication if you've been away for more than 5 minutes, 15 minutes, 30 minutes or 1 hour.
If your device doesn't recognise your fingerprint or facial scan, you'll be asked to enter the six-digit passcode you created when you set up secondary authentication. If you forget this passcode, you can log out, re-authenticate with single sign-on, then reset your passcode, fingerprint and facial scan.
Note: signing out of one workspace that requires secondary authentication will sign you out of all your workspaces that require a passcode, fingerprint or facial scan.
Notifications
If your authentication session expires, mobile notifications will not include message previews to keep potentially sensitive information secure. Here's what you can expect to see on your Android (left) or iOS (right) device: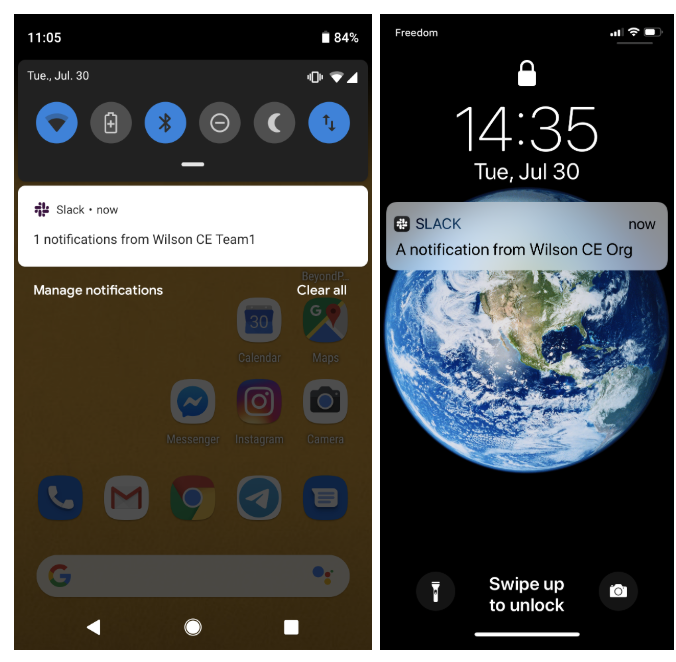 Who can use this feature?
Members and guests
Available on the Enterprise Grid subscription