Manage your sidebar display
Every workspace starts with a #general channel and a #random channel. Naturally, your workspace will add more channels to keep discussions focused on specific topics and projects. As your channel list grows, you can manage your sidebar to keep your most important conversations right where you need them.

Preferences to manage your sidebar display
Sort channels by priority
Your channels appear in alphabetical order by default. If you're on a paid subscription, you can choose Priority sorting to sort them based on how you use Slack. Sorting channels scientifically will bump the channels most relevant to you to the top of your sidebar. Here's how to set this preference:
From your desktop, click your workspace name in the top left.

From the menu, select Preferences.
Select Sidebar.
Under Sorting and Grouping, choose Priority.
Note: it's not currently possible to create sub-channels or folders. When channels are listed alphabetically, you can use channel pre-fixes to help organise your sidebar.

Separate your public and private channels
From your desktop, click your workspace name in the top left.

Select Preferences from the menu.
Select Sidebar.

Under

Sorting and grouping,

 tick the box next to

List private channels separately

.
Tip: if you're on the Enterprise Grid subscription, you can choose List organisation channels separately to display public org-wide channels in the sidebar. Please note that private org-wide channels will still be grouped under the Channels category.

Hide conversations with no unread activity
Instead of listing every channel you've joined in your sidebar, you can choose to display only the ones with unread activity. This means that channels and direct messages will only appear in your channel list when there is a message you haven't seen yet.
Choosing to display only unread and starred conversations will make everything feel a lot more manageable: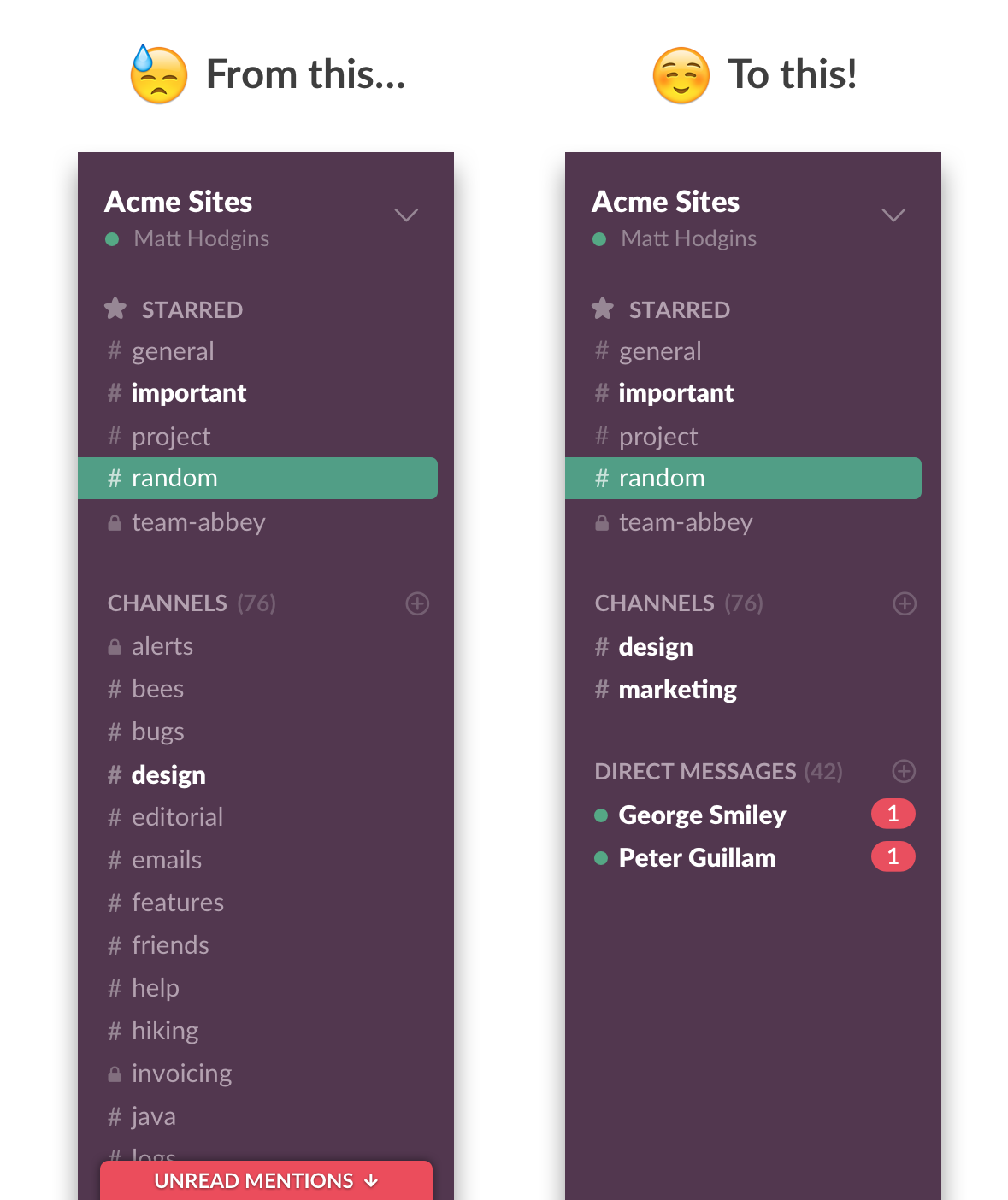 Here's how to hide channels and DMs that have already been read:
From your desktop, click your workspace name in the top left.

Next, select Preferences and choose Sidebar.
Under Appearance, choose from one of these two options:

🌟 Unreads and starred conversations
Only your unread and any starred conversations will be visible.

📰 Unreads only
Only your unread channels, direct messages and apps will be visible.
Note: With this setting, use the Quick Switcher to find channels that are hidden. To reach other channels and conversations, press ⌘ K on Mac or Ctrl K on Windows.
Tips and preferences
Here are some features you can use when your channel list starts to look crowded: