Run daily stand-ups or check-ins
What's it handy for?
You can often eliminate a daily morning meeting that tends to take up a good amount of time, when most participants only need 30 seconds to share their status. Instead, try running it in a Slack channel where workers and managers can maintain visibility about everyone's tasks without taking a half hour out of anyone's day.
Daily stand-ups are great for:
Giving visibility into everyone's projects
Keeping the team abreast of everyone's tasks
Managers and executives wanting to monitor progress on projects
Saving time by eliminating an in-person meeting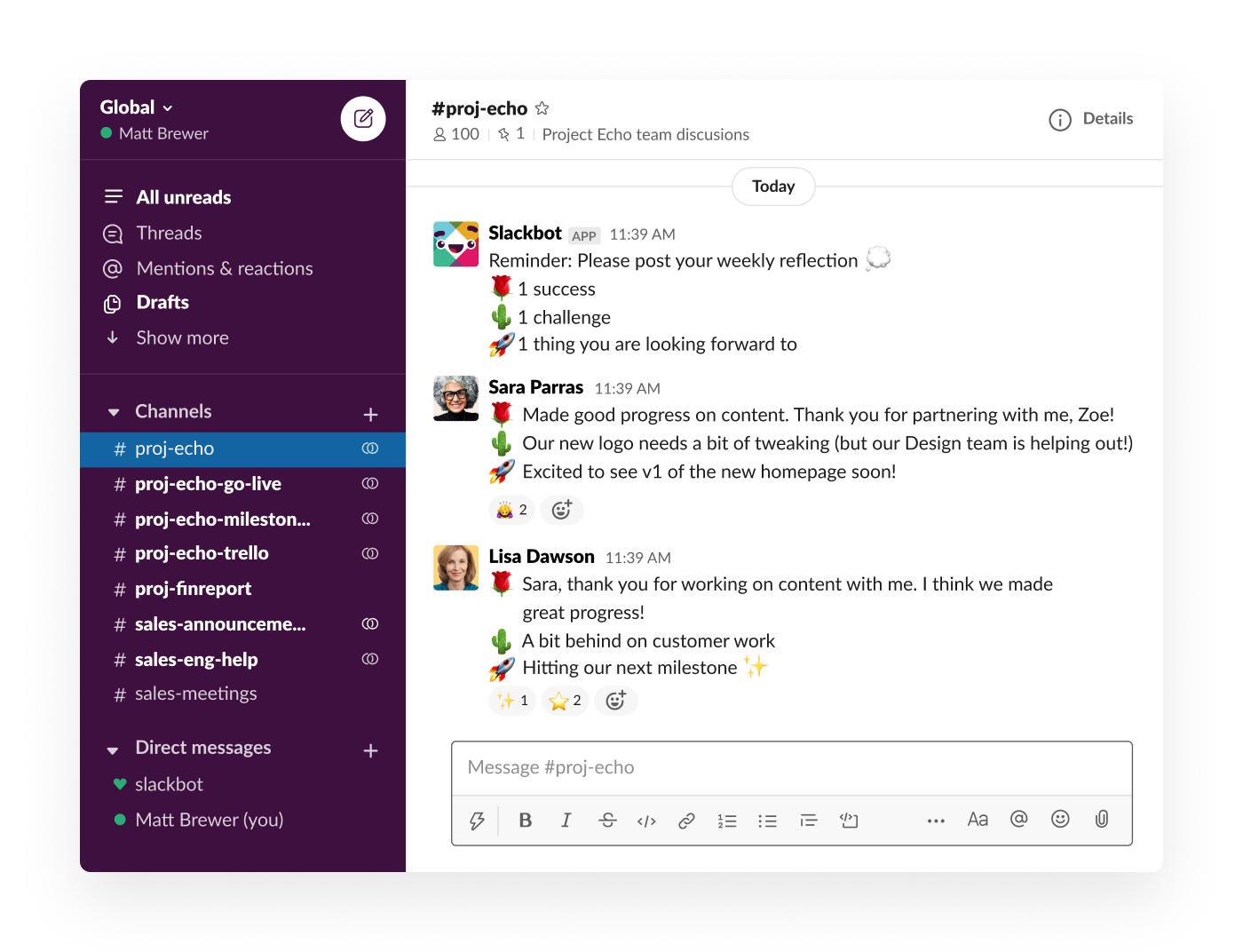 How to run daily standup meetings in Slack
Pick which channel and an agreed upon time to run weekday standups
Here are some examples:

Running a daily standup in a project channel like #proj-echo
Sharing weekly updates in a team channel like #editorial-team
Creating a dedicated channel for standups like #on-deck-today

Use a slash command to set a reminder that asks your teammates to share their updates. Try a variation on this this slash command that references everyone in the channel (or try user groups to make a list of specific members you'd like to be alerted):We wrote one for you that you can copy paste into the channel of your choice:

/remind #thischannel on weekdays to "Reminder: Please post your weekly reflection 💭. 🌹 1 success, 🌵 1 challenge, 🚀 1 thing you're looking forward to."

Read replies in your channel to see what everyone is up to.

Also worth checking out
There are dedicated apps for conducting stand-up meetings if you'd like more functionality, things like a bot asking each member about their project every morning and posting summaries into channels where your whole team can see.
Awesome!
Thanks so much for your feedback!
Got it!
Thanks for your feedback.
Oops! We're having trouble. Please try again later!