Introduce people across the organizations you work with
Slack Connect allows you to work with people outside your organization in channels and direct messages (DMs). When you'd like to connect the people across the organizations you work with, you can securely share certain contact information from their Slack profile, making it easy for them to get in touch and start working together.
What to expect
You can share someone's contact info if you're from the same company or if you work together in a Slack Connect channel or DM.

Contact information includes someone's full name,

display name

, profile picture, email address (depending on their Slack settings), and company name — some of the basic elements you can see in their Slack profile. You won't be able to share someone's contact info if they've adjusted their contact sharing preferences.

To share someone's contact info, you must be

using a 

paid Slack plan, but the person you're sharing contact info with can be using any plan. People will see that you've shared their info if they receive an invitation to connect.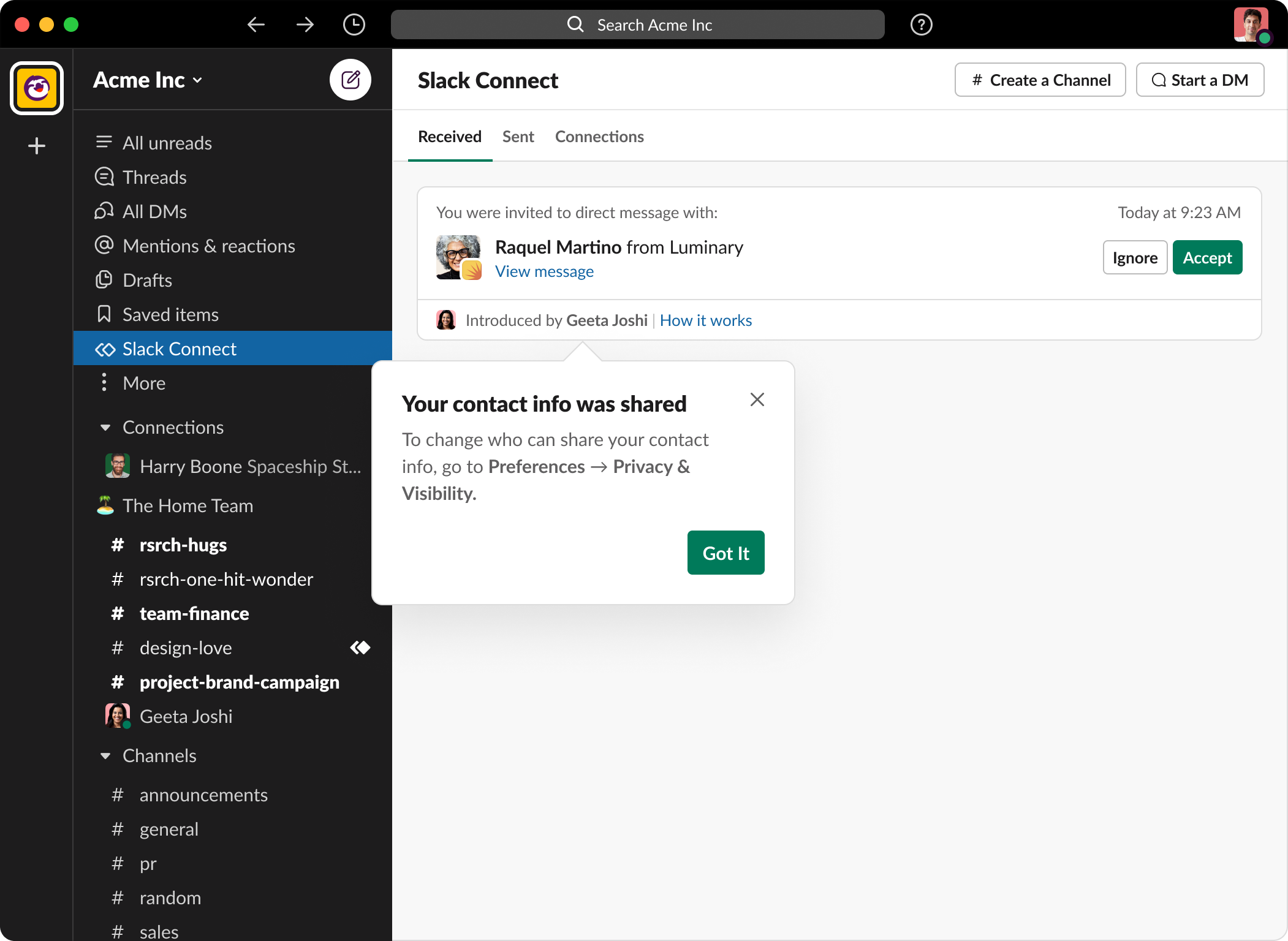 Share someone's contact info
Find the person whose contact info you'd like to share.
Click their name to view their profile.
Click More, then select Share contact from the menu.
Search for the channel or person you'd like to share contact info with, then click Share.
Note: When you share someone's contact information, they can ignore or block any invitations from people they don't want to connect with.

Working with contact info
Here are the options people will see when they hover over the contact info you've shared:
 Send a message
Click Message to start a DM conversation.
 Share contact info
Share this person's contact info if someone else would benefit from reaching out to them.
 Save contact info
Easily find this person's contact info by pressing CmdK (Mac) or CtrlK (Windows/Linux) and typing their name into the search field.
Note: Depending on each organization's Slack settings, people who are introduced may not be able to message each other in Slack.
Who can use this feature?
By default, all

members (but not guests)

Available on

paid plans