A guide to apps and the Slack App Directory
As a collaboration hub, Slack brings the right people and information together to get work done. Apps connect your Slack workspace with the tools and services you use at work every day.
Tip: The Slack App Directory has more than 1,500 apps built for all types of organizations using Slack. Browse the App Directory to find the right apps for you and your company.

What are apps?
An app is software that connects a tool or service (like Salesforce, Google Drive, or Jira) to Slack. Apps can be built by Slack, third parties, or your own team.
Add apps to Slack to centralize and streamline your work. With all of your tools in one place, you can easily share information by sending a relevant message in Slack to another service or streamline project assignments by creating tasks in your project management software directly from your workspace.

Where can you find apps?
Browse apps in the Slack App Directory
The Slack App Directory is the place to go to browse third-party apps, whether you're looking for a specific tool, or you want to see what apps are available for your line of work. Each app in the App Directory is built to work with Slack and reviewed by our team.
View apps in your workspace from the Slack desktop app
You can also browse apps available in the App Directory right from Slack on your desktop. Click   Apps in the left sidebar to view apps available for everyone in your workspace, search for new apps, or open apps you've recently used.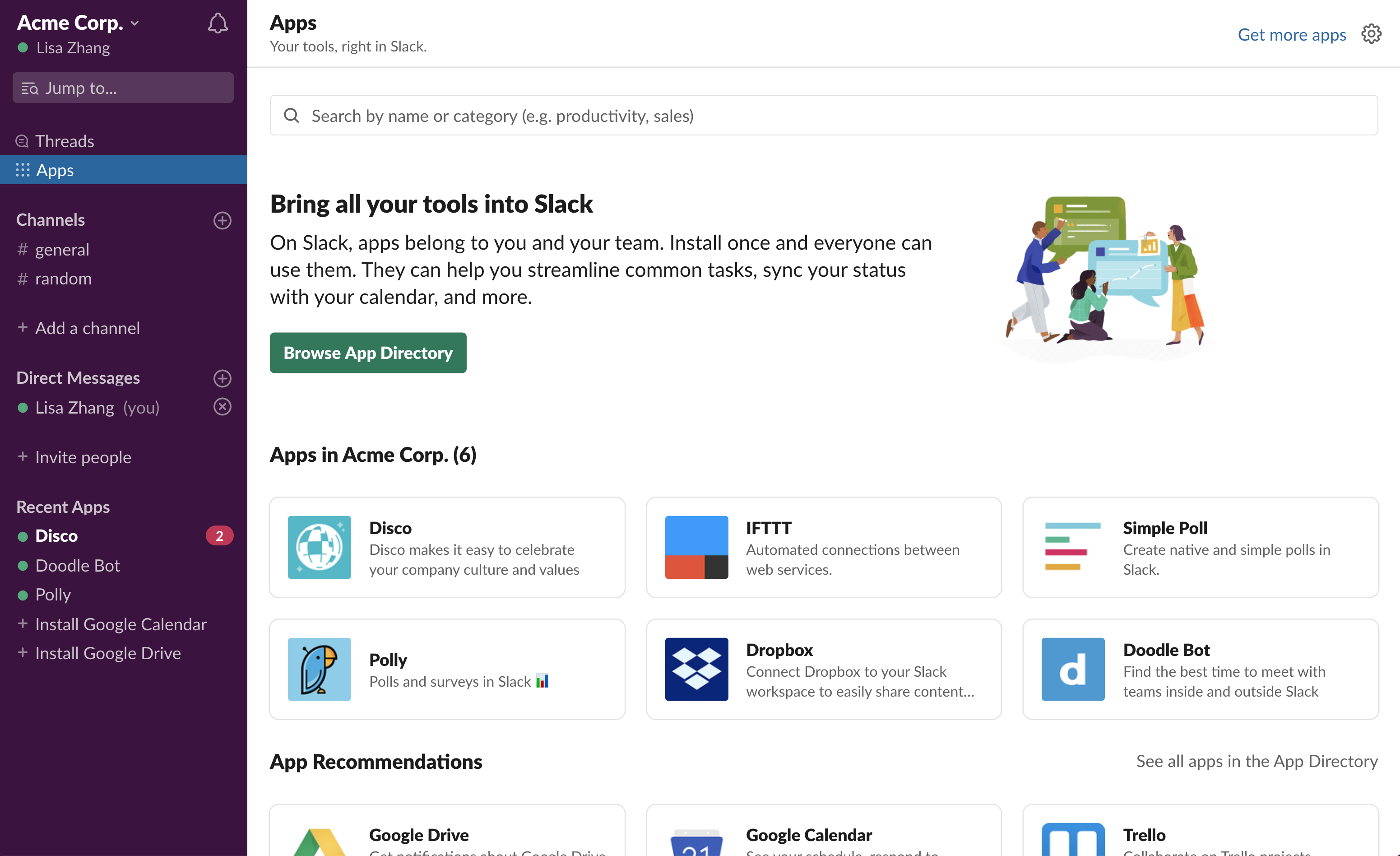 How can you add and use apps?
Install an app to your workspace
When you've found an app you'd like to use, click the Add to Slack button and follow the prompts.
Workspace members can add apps by default, but Workspace Owners can choose to restrict this permission. If that's the case, you may need to submit an app request instead. 
Use apps in Slack
Once you've installed and connected an app to Slack, you can start using it right away. Many Slack apps have bot users that can send direct messages to members and post messages in channels, so you may receive a welcome message with tips for getting started. Other apps have a Home tab where you can view information, configure app settings, and more.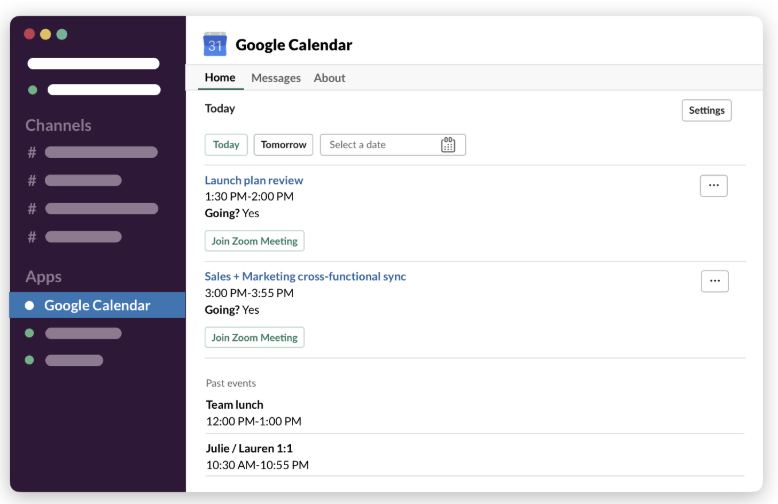 How you interact with an app depends on how it was designed. With some apps, you'll use slash commands to take actions and perform tasks. For example, you can type the /zoom slash command into the message field in a Slack channel to start a Zoom meeting for all channel members.
Other apps have built-in shortcuts called actions to help you move work from Slack to a connected app, like attaching a relevant Slack message to a customer's record in Salesforce. To use an action, click the   three dots icon next to any message in Slack and choose an available app action.

What's next?