Guide to apps in Slack
Apps connect other software you use (like Google Calendar, Salesforce, or one of your company's internal tools) to Slack. With all your tools in one place, you can streamline work and help people in your workspace collaborate more effectively.
What you need to know
There are a few different types of apps you may see in Slack — built by Slack, third parties, or your own team. How an app was built determines how it can be installed and managed in a workspace, as well as where and how you'll be able to interact with it.
By default, any workspace member can install apps, but owners and admins can choose to restrict this permission. Once an app is installed to a workspace, any member can connect their account to use it.

Before installing an app from the App Directory, you can review its privacy policy and security and compliance information (if submitted by the app's developer) from the app page. We recommend only choosing services you trust when installing apps to Slack. 

Find apps
If you're just setting up your workspace or would like to see all of the apps you can use in Slack, head to the Slack App Directory. Workspace members looking for apps already installed to their workspace can use the app browser.

Browse apps in the Slack App Directory
Whether you want to find a specific app or you're looking for apps tailored to the type of work you do, you can browse more than 2,000 apps in the App Directory.
View apps in your workspace
From Slack on your desktop, you can view any apps installed to your workspace by other members. To open the app browser, click  Apps in the top left of your sidebar. If you don't see this option, click  More to find it.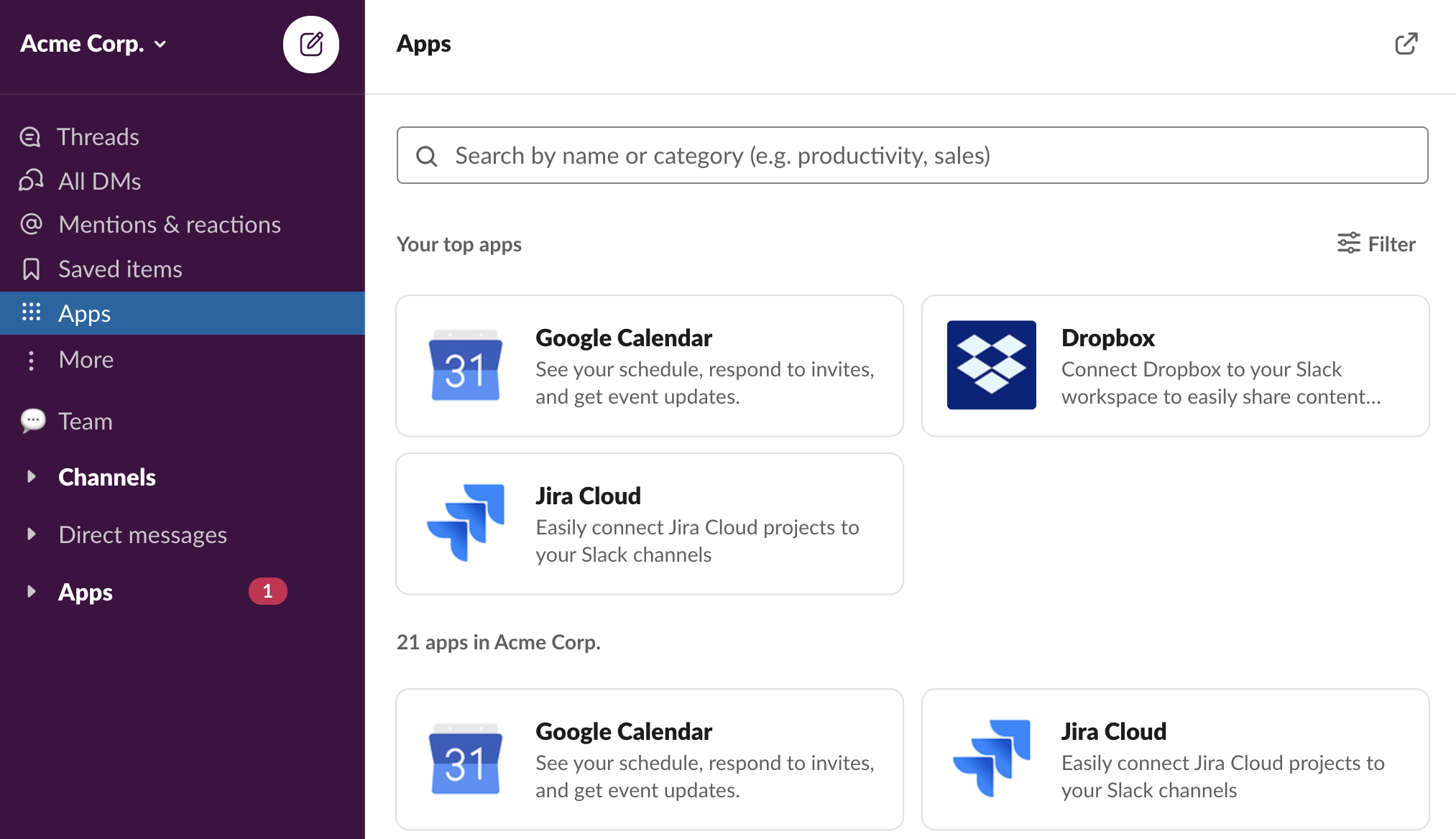 Add apps to your workspace
By default, any workspace member can install apps to Slack. When you've found an app you'd like to use, click the Add to Slack button from the app page in the Slack App Directory. If you don't have permission to install apps, you may be able to submit an app request instead.
Once an app is installed to your workspace, you and other workspace members can start using it right away. Typically, the person who installs an app will connect their account as part of the installation process, but other members may need to connect their accounts before they can get started. Some apps will also need to be added to individual channels for the best functionality. You can do this by clicking the channel name in the channel header, then selecting the Integrations tab, or by mentioning the app in a message sent to the channel.

Use apps
Work with apps
How an app was built determines how you'll use and interact with it. Here are some features you may come across: 
An app Home or Messages tab
From an app's Home tab, you can view information about an app, configure app settings, and more. From the Messages tab, you may see messages sent to you by the app (for example, a message with information about an updated Google Calendar event).

App shortcuts
Some apps include shortcuts that you can use to take actions in Slack. Click the  slash icon to the left of the message field and search for app shortcuts or slash commands.
Bot users
Some Slack apps have bot users that can send messages and post in channels. You might receive a direct message (DM) from an app's bot user (for example, with a link to fill out a survey created with the app) or see messages in channels posted by an app.
Note: Only apps with bot users will be visible in the Apps section at the bottom of your sidebar. If you don't see an app there, click the  plus icon to search for and interact with it.

Sign up for other services
To use most Slack apps, you'll need an account with the service that built the app. App developers may choose to make their Slack app available for free or require a paid account with their service.
If app developers have submitted their app's pricing requirements, you'll see this information on their app pages in the Slack App Directory:
| | |
| --- | --- |
| Pricing | Description |
| Free | You can use the service and Slack app for free. |
| Free and paid plans available | You can use the service and Slack app for free, but paid plans are available. |
| Paid with free trial | You need a paid account with the service to use the Slack app, but there's a free trial available.  |
| Paid | You need a paid account with the service to use the Slack app.  |

Understand app security
To help keep your Slack workspace secure, it's important to understand how apps work with Slack. Each Slack app has a unique set of permission scopes that tell you what information the app can access in Slack and how it can use that information. There are a few things we recommend considering before installing an app:
What scopes the app will request to function in your workspace. Generally, an app will ask permission to post messages, perform actions, and read information.
What information the app will have access to in your workspace, like member profiles, channel names, messages, or files.
What the app can do with the information it can access, like post messages, modify content, or create channels.

Additional resources
Visit Add an app to your workspace for details on installing or requesting approval for apps you'd like to use in Slack.
If you're a Workspace Owner, visit Manage app approval for your workspace to learn more about managing your members' ability to install and request apps.
Read our documentation on Slack API if you're interested in creating custom apps for your workspace or building apps for the Slack App Directory.