Imagine you're in a queue for an early-morning coffee. One transaction stands between you and a critical caffeine hit, but the credit card machine doesn't work – and you don't have cash. You lose time (and that coffee!), and the café loses a sale.
Thankfully, to prevent this from happening, more than 32,000 small businesses in Australia can count on Tyro, a fast-growing business bank that offers integrated in-store and online payment solutions and banking products, such as business loans and transaction accounts. As the fifth largest acquirer of payments in Australia, Tyro processed over $17.5 billion in transactions in 2019. The company's payment solutions ensure that its customers can process sales quickly and reliably – allowing you to seamlessly pay for that cup of coffee.
As Australians' use of electronic and contactless payments continues to rise and as more businesses trust Tyro, it's critical that the company's services are operational 24/7. Before Slack, Tyro's incident team relied on in-person conversations and emails to solve issues. 'We had a very strong interrupt culture, and people would just come up to talk', says Yvette Mandanas, the Chief People Officer at Tyro. If people were not available at their desks, they'd resort to phone or email. 'But out of hours, some people might not check their emails', says Timothy Kersten, Tyro's IT Operations Manager. 'It was much, much slower, and much less effective than Slack.'
By the time Kersten moved the incident-management process to Slack in mid-2018, the tool had already picked up momentum with engineers, who make up roughly half of the 500-person company. 'We saw a tool that could reach everyone during an incident', Kersten says. 'Compared to email, Slack is an absolute no-brainer that has really changed the speed of response on the major incident team.'
Beyond incident management, Slack helps Tyro align across departments, stay agile during uncertain times and power payment processing for Australia's small businesses.
'Compared to email, Slack is an absolute no-brainer that has really changed the speed of response on the major incident team.'
Using channels and automations to resolve issues faster
For Kersten's team, which manages Tyro's response to major incidents, speed is of the essence. The team relies on Slack automations to reach faster resolutions. 'It's all about reducing time', Kersten says. 'Any step we found that could be automated, we've done our best to automate in Slack.'
To start with, Kersten's team introduced a process for reporting incidents via a Slack slash command. Anyone at the company can type the command to sound the alarm. 'Most of those reporting incidents are engineers, and their world is in Slack', Kersten says. 'To give them that trigger, where they're already working, is really important.'
Once an incident is identified, Slack integrations kick in: PagerDuty issues an alert and Zapier spins up a dedicated Slack channel – a virtual space where teammates can share information and collaborate. Key stakeholders are pulled into the channel, where they can review the incident information and work with others on a response.
The incident channel allows team members to move quickly and maintain visibility without getting overwhelmed. 'Slack has really helped us segment our information and deliver it at the right level of granularity', Kersten says. 'The goal of incident management is speed: speed of response and speed of resolution. Slack has been critical for that.'
Throughout the process, resolution managers issue CAN (condition, action, need) reports to update everyone on the incident status. Previously, the process involved a lot of copying and pasting from different places. With Workflow Builder, an easy-to-use tool for automating routine processes, Kersten created a form for resolution managers to fill out in Slack. 'The workflow established a very succinct way of delivering consistent messaging throughout an incident, and it's standardised across resolution managers', Kersten says.
Simplifying routine processes with Slack
Andrew Cunningham, a delivery lead who oversees Tyro's on-premise operations, has also moved workflows to Slack to increase visibility and efficiency. Anytime his team releases a new deployment or patch in Tyro's production environment, an automated notification pops up in a dedicated channel, #active_prod_changes. The notice ensures that stakeholders are aware of what's happening and when, as well as whom to contact for more information. 'By automating the process to post in channel, we have a consistent place for teams to see what changes are occurring', Cunningham says. 'We no longer have to send out a constant stream of emails to the company trying to keep teams up to date.'
He's also leveraged Workflow Builder to surface the team's 'interrupt', each week's go-to person for questions and issues. Previously, engineers from other teams would constantly ask whom they should contact. Now, 'Slack's Workflow Builder iterates through a list of people and announces the interrupt every Monday morning', Cunningham says.
Cunningham optimised another time-consuming task with Slack: audit logs. Each year, he compiles a list of every deployment that has happened over the past 365 days. 'I used to have to troll logs for about a week to pull all that information', he says. 'Now I can just go into Slack and do a dump of the deployment channel for the last year. It basically saves me a week.'
'I used to have to troll logs for about a week to extract all that information. Now I can just go into Slack and do a dump of the deployment channel for the last year. It basically saves me a week.'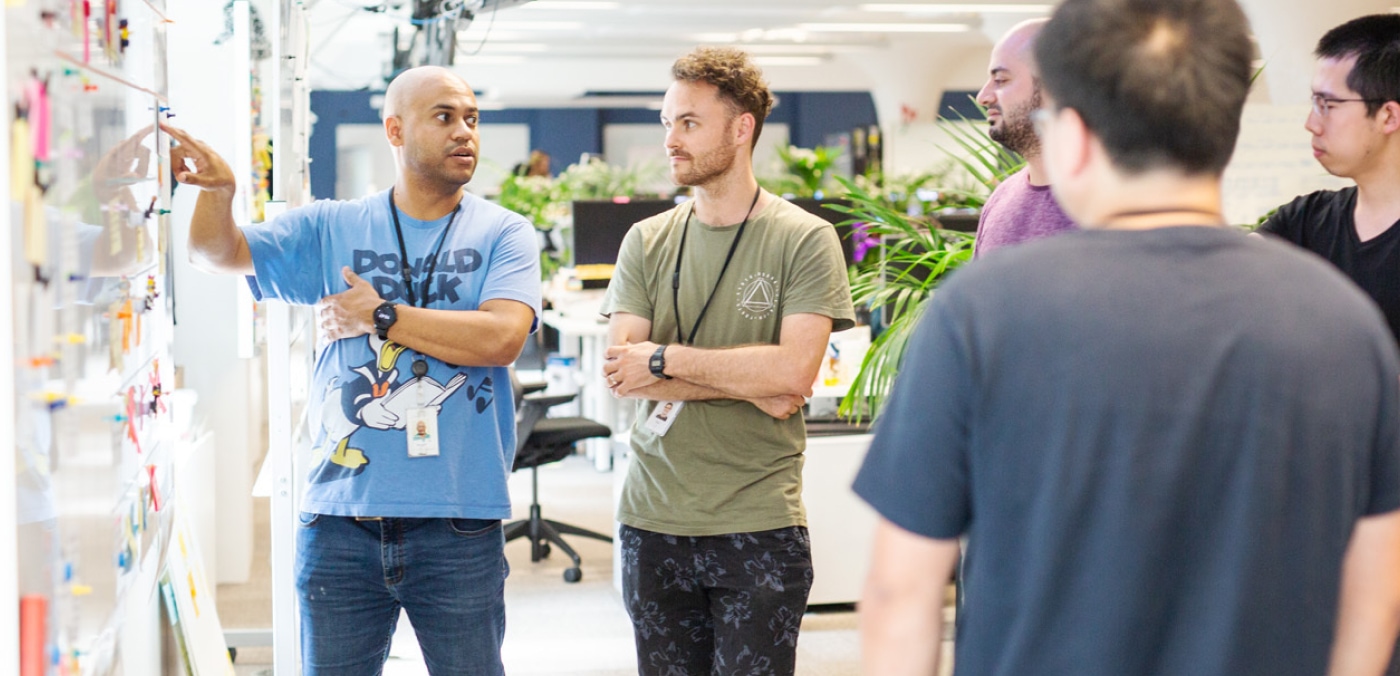 Seamlessly shifting to remote work in Slack
Thanks to their proficiency in Slack, Tyro employees continued to move forward despite the coronavirus pandemic. 'We were very lucky to have Slack', Kersten says. 'I think a lot of other businesses were scrambling to test and find tools, but our transition wasn't bumpy at all. The platform and foundation were there.'
Tyro uses its #general channel to broadcast company-wide communications, gauge employee sentiment and answer questions. The channel also provides a platform for employees to ask questions and allows everyone to see the answers. 'Since Covid-19 hit, we rely on Slack to provide regular, transparent and clear communication that helps keep everyone informed and quell any concerns they have', Mandanas says.
Moving from a walk-up culture to Slack channels
Prior to the pandemic, Tyro's walk-up culture meant that employees were used to tapping someone on the shoulder when they had a question. Once the company moved to remote work, that simply wasn't an option. Now people go to Slack channels for answers.
Cunningham's team leverages the #dtops channel to support its partners across the company. 'Our dedicated Slack channel gives us an easy place to let people know about issues that are ongoing, answer questions and provide support', he says. 'We also find that other teams with similar issues will contribute to the discussion, which leads to teams finding solutions without us having to get involved at all.'
The major incident team also moved many of its critical in-person functions to Slack. 'We used to have a physical war room we would run to if there was a major incident', Kersten says. 'That obviously doesn't happen anymore – it's been replaced by Slack and Zoom. Now, when incidents occur, we type the Zoom command in Slack and everyone jumps on and connects there.'
Across teams, visibility into what's happening across the company has become even more of an imperative. 'With Slack, people know exactly what's going on without having to ask and can see everything in a very centralised place', Cunningham says.
'Since Covid-19 hit, we rely on Slack to provide regular, transparent and clear communication that helps keep everyone informed and quell any concerns they have.'
Building connection with channels
During the transition to remote work, Tyro kept its culture top of mind. 'Fostering a close-knit, engaged group of people is one of our biggest competitive advantages', Mandanas says. In the absence of in-person gatherings and team outings, employees have turned to channels to connect.
Those interested in gender equality can find like-minded colleagues – both women and men – in #women-of-tyro, while employees invested in diversity can share ideas and inspiration in #inclusion. Channels such as #pets-of-tyro offer lighter fare for those looking to replicate casual watercooler chat virtually. All of these channels reinforce the close community Tyro prides itself on.
When small businesses are counting on products and services to process payments, speed and execution matter. Tyro has leveraged Slack to resolve issues faster, maintain momentum and keep employees connected. For Australian consumers and businesses alike, this translates to a more seamless purchase experience.