From channels to search — learn how Slack works from top to bottom!
Want to learn more about setting up your team? Look no further!
Supplemental Slack info for you and your team.
If you're curious about what's new in Slack — and what's changed — you're in the right place.
Adjust your profile and preferences to make Slack work just for you!
Connect, simplify, and automate. Discover the power of apps and tools.
Welcome to Slack! We're so glad you're here. Let's get started!
Tips and tools for beginners and experts alike.
Microsoft Outlook Calendar for Slack
With the Outlook Calendar app for Slack, stay on top of your Office 365 calendar right from your workspace:
Automatically update your Slack status based on your calendar.
Join a Skype, Zoom, or Webex video call from an event reminder.
Respond to event notifications, and get an update when event details change.
Note: Outlook Calendar for Slack is only available for Office 365. The app is not supported for on-premise Microsoft Exchange customers.

Connect your calendar to Slack
Step 1: Open or install the app
From your desktop, locate the Apps section at the bottom of your left sidebar.
Click the  plus icon.


Search for Outlook Calendar.

✋Not installed yet? Click Add to Slack to visit the Slack App Directory, then follow the steps to connect the app.

👍Already installed? Click Open in Slack.

Step 2: Set up the Outlook Calendar app in Slack
Once connected to Slack, Outlook Calendar will be listed under Apps in your left sidebar. Use the steps below to complete setup.
Click Outlook Calendar in your left sidebar.
Type the slash command /ocal in the message field and send.
Click Connect an Account and follow the steps.
Once your account is connected, you'll be directed back to Slack. Click Use this Calendar.
You'll see a prompt to turn on automatic status updates. To do so, click Turn On.

With the app set up, you'll start to receive calendar notifications in Slack. To help reduce noise, we recommend turning off email, desktop, or mobile notifications for Outlook Calendar. Visit Microsoft Support to learn how to adjust your notification preferences.

Use the Outlook Calendar app
Automatically update your Slack status
Using your calendar, the app will automatically set your Slack status to one of these options: In a meeting, Working remotely, Out of office.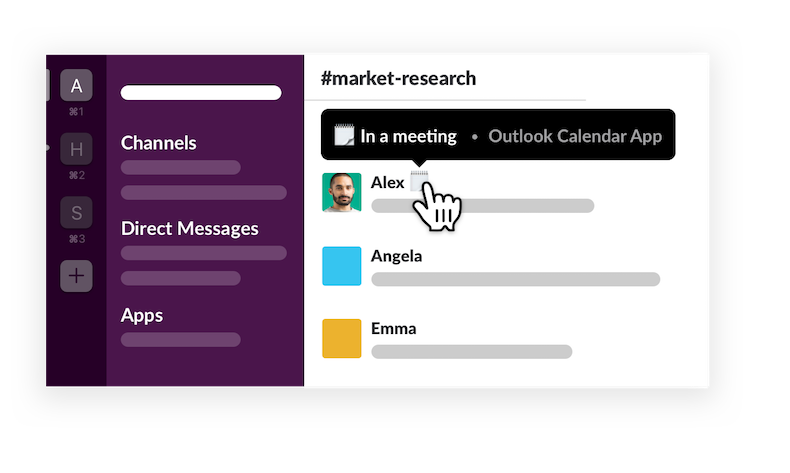 Here are some details to keep in mind:
You can remove or update your Slack status at any time — the app won't override any status you've set yourself.
Only meetings you accept will trigger a status update in Slack, and your status won't include the name of your meeting.
Slack will only sync with the primary calendar for the Outlook account you've connected.
If you have overlapping events, there are two options: if the events have different durations, your status will be set to match the longer one, but if they start or end at different times, your status will match the earlier one.
Other features
See your schedules
Quickly reference today or tomorrow's schedule with /ocal today or /ocal tomorrow slash commands.
Get event reminders and updates
Get notified before meetings start, or when event details change. Choose how much of a head start you'd like: from zero to five minutes, or up to an hour beforehand.
Respond to invites
Keep your calendar up to date: review invite details, see conflicting meetings, and reply to an event with a Yes, No, or Maybe.
Join conference calls
If you use Skype for Business, Zoom, or Webex, join remote meetings from an even notification with a single tap or click.

Adjust notification settings
Locate and click Outlook Calendar in the Apps section of your left sidebar.
Type the slash command /ocal settings in the message field and send.
Click Manage.
Choose Update Notifications.
Change your preferences, then click Update to save.

Disconnect your calendar
Locate and click Outlook Calendar in the Apps section of your left sidebar.
Type the slash command /ocal in the message field and send.
Under Manage Calendar & Notifications, select Disconnect Calendar.
Click Yes to confirm.