Microsoft Outlook Calendar for Slack
Use the Microsoft Outlook Calendar app for Slack to stay on top of your Office 365 calendar right from your workspace:
Automatically update your Slack status based on your calendar.
Respond to event notifications and get updates when event details change.
Join a Skype, Zoom, or Webex video call from an event reminder.
Note: Outlook Calendar for Slack is only available for Office 365. The app is not supported for on-premise Microsoft Exchange customers.

Connect a calendar to Slack
Step 1: Install or open the app
From your desktop, locate the Apps section at the bottom of your left sidebar.
Click the  plus icon.

Search for Outlook Calendar.

✋Not installed yet? Click Add to Slack to visit the Slack App Directory, then follow the steps to connect the app.

👍Already installed? Click Open in Slack.

Step 2: Set up Outlook Calendar in Slack
Once it's connected to Slack, Outlook Calendar will be listed below Apps in your left sidebar. Use the steps below to complete setup.
Click Outlook Calendar in your left sidebar to open the app.
From the Home tab, click Connect an account and follow the prompts. 
Go back to the Outlook Calendar app in Slack.
Select the Messages tab, then click Use This Calendar to finish connecting your Outlook account. 
After you connect your account, you'll start receiving calendar notifications in Slack. To prevent duplicate notifications, learn how to adjust your Outlook Calendar notifications for your email, desktop, and mobile devices from Microsoft Support.

Use Outlook Calendar in Slack
View your full schedule
From the Home tab, click Today or Tomorrow to see upcoming events. Click   Select a date to see all events for a particular day.
To view more details, click the   three dots icon to the right of an event. Select View event details to see the location, guest list, and description.
Tip: Use the /ocal today or /ocal tomorrow slash command in the Messages tab to view your daily events.
Note: If you're using Outlook Calendar from the Slack mobile app, you won't see the Home tab yet — but it will be available soon!
---
Automatically update your Slack status
Using your primary calendar, the Outlook Calendar app can automatically set your Slack status to one of these options: In a meeting, Working remotely, or Out of office.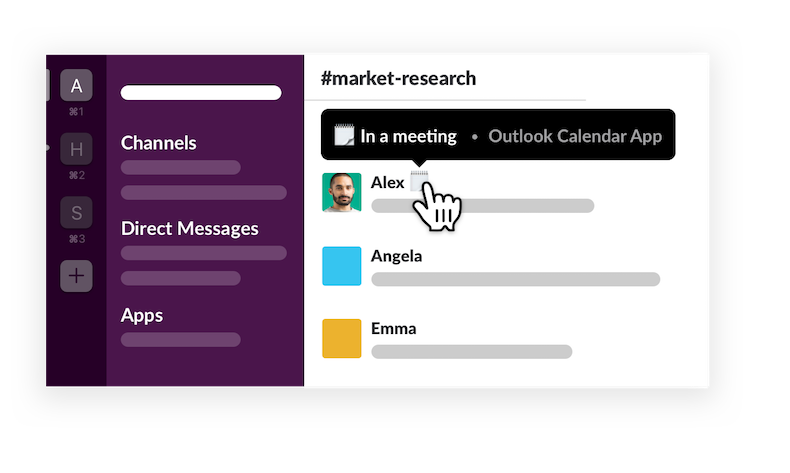 Here are some details to keep in mind:
You can remove or update your Slack status at any time — the app won't override any status you've set yourself.
Only meetings you accept will trigger a status update in Slack, and your status won't include the name of your meeting.
Slack will only sync with the primary calendar for the Outlook account you've connected.
If you have overlapping events, there are two options: if the events have different durations, your status will be set to match the longer one, but if they start or end at different times, your status will match the earlier one.
Tip: To manage status syncing, click on the Home tab and select Settings. Then, turn Status Sync on or off.

Adjust notification settings
You can tailor your Outlook Calendar notification settings in Slack by turning certain notifications on or off. Here's how:
Find and select Outlook Calendar in the Apps section of your left sidebar.
From the Home tab, click Settings in the top right.
Below your calendar, click Notification Preferences.
Set your notification preferences and click Update.
Click Done to save.
Tip: You can also use the /ocal slash command in the Messages tab to adjust your settings.
Disconnect your calendar
Locate and click Outlook Calendar in the Apps section of your left sidebar.
From the Home tab, click Settings in the top right. 
Below the calendar you want to disconnect, click Disconnect Calendar. 
Click Yes to confirm.