Guide to sharing channels with external organisations
With Slack Connect, you can share channels with external organisations to work together securely and productively. Sharing a channel lets you communicate with members across different organisations in one centralised place, without leaving your own workspace.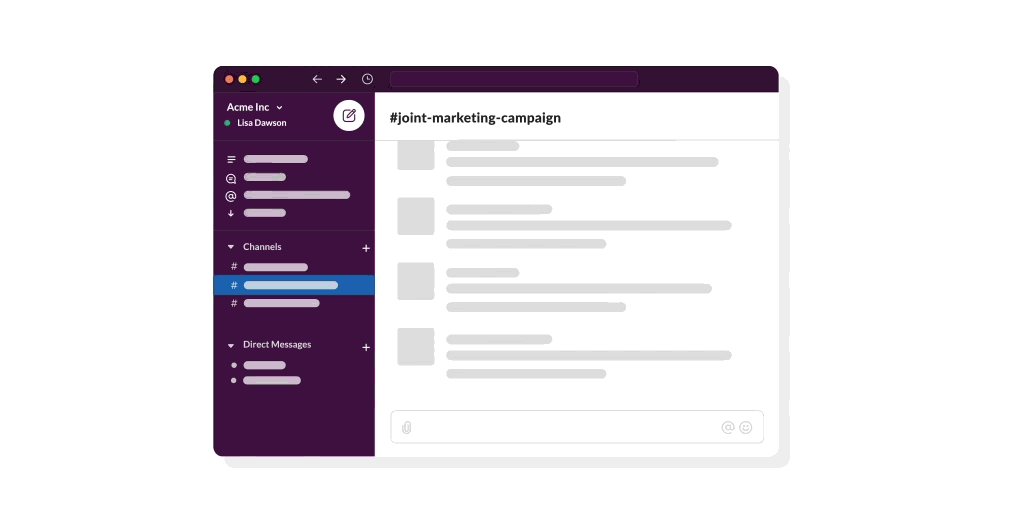 Note: To share a channel, every participating organisation must be using one of Slack's paid subscriptions. If you're using the free version of Slack, learn how to upgrade your workspace.
What to expect
Sharing a channel allows external organisations access to only that channel in your workspace.

You can send direct messages to members from external organisations, as long as you're sharing at least one channel.

Members from external organisations can join a shared channel from their workspace, or be added by another member of their workspace who's already in the channel.

You can't share the #general channel, multi-workspace channels or org-wide channels.

How to share a channel
There are three steps to sharing a channel:

Working in shared channels
Working in a channel shared with external organisations is similar to using other channels in Slack. You can identify a shared channel by the   diamond icon next to the name in your channel list. Keep reading to learn more about what to expect when working in channels that you're sharing.

View a member's profile 
When a member from an external organisation sends a message in a shared channel, you'll see their profile photo, and certain fields in their profile with their organisation's Slack icon in the bottom right corner. You can view their profile, but you won't be able to see any status that they've set/span> in their workspace.

Use custom emoji
In shared channels, you can use your workspace's customised emoji like you would in any other channel. Members of external organisations can see your workspace's customised emoji, but won't be able to use them in messages or add them as emoji reactions.

Use apps and workflows
You can use apps and integrations in channels that you're sharing with external organisations. All members can see messages from bots and apps, and even message another workspace's bot user if it's been added to the channel. Keep in mind that your workspace's custom slash commands and shortcuts for third-party apps won't work for members from external organisations.
By default, a member from any organisation can create workflows for anyone in the channel to use.

Send direct messages
You can send direct messages to members from an external organisation if you're in the same shared channel. To create a group direct message with members from multiple external organisations, you must share at least one channel with every member you're adding to the conversation.
Tip: We've taken added precautions to keep your workspace secure when sharing channels with external organisations. Visit Security and data policies for shared channels to learn more.
Who can use this feature?
All members (by default)
Standard, Plus and Enterprise Grid subscriptions