Editors are famous for having a 'gut feeling' for stories that will sell. But at Hearst Magazines – publisher of iconic brands such as Harper's Bazaar and Esquire – editors recognised that they would need more than intuition to compete in the rapid-fire, hypercompetitive world of digital publishing. Today, stories are inspired and driven by numbers — and Hearst Magazines relies on Slack to surface the data that supports each successful issue, article and social-media post.
'Our mantra is "content with purpose,"' says Brooke Siegel, the Vice President of Content at Hearst Magazines. Teams strive to understand what will inform and entertain their audiences. When ABC pitched Cosmopolitan to feature The Bachelor winner Cassie Randolph in the magazine, then–Chief Fashion Director Aya Kanai (now Editor in Chief of Marie Claire) turned to HANS, a custom bot that pulls data into Slack. As Cosmopolitan's website had covered the TV series from the start, Kanai says, 'we had all this data demonstrating how our stories performed and whether our audience cared about this topic, which they did.' She was confident enough in the data to greenlight a photo shoot of Randolph for the print magazine.
That story isn't an exception; it's the new normal at Hearst Magazines. The division doubled down on digital content and analytics, encouraging its staff to mine data for editorial insights. Thanks to HANS, this new data-driven mindset is woven into the everyday workflow of all of Hearst's magazine brands, allowing teams to leverage yesterday's data to create today's must-reads.
'There are so many ways to get our data, but HANS is the fastest and easiest. And in the magazine and media business, timing matters.'
Pulling data out of the dashboard with HANS bot
Across Hearst Magazines' portfolio of some 25 brands, more than 2,500 pieces of content are created every day, each with its own set of performance metrics. Troy Young, the organisation's President, recognised that while the data was important, pulling it could be time-consuming and inefficient, especially for editors, who might spend 30 minutes searching for a report. So he challenged the division's Product Director Zack Packer, and the Product Strategy Director, Michael Solomon, to develop a Slack-based solution that would put data in the hands of employees, from editors and executives to SEO managers and sales reps.
The result? HANS bot, short for 'Hearst Answers,' was inspired in part by Apple's digital assistant Siri and Amazon's Alexa. It's capable of understanding natural language, like 'What were the top-performing stories on Elle yesterday?' making it accessible to nontechnical employees. Behind its easy-to-use interface, HANS merges information from seven different sources to offer 40 customisable reports. Rather than logging into a new dashboard, the bot's 1,500 users simply summon the information in Slack.
In a matter of minutes, users can ask HANS what's trending, which stories Hearst brands have previously published on those topics and how each piece performed. Executives can pull division-wide reports with a few keystrokes. And publishers can determine at a glance which products and stories are generating the most e-commerce revenue. 'It reduces the manual work users would have to do and saves so much time,' says Sara Sheehan, a Senior Product Manager at Hearst Magazines. Her user data shows that HANS saves employees an average of an hour a day.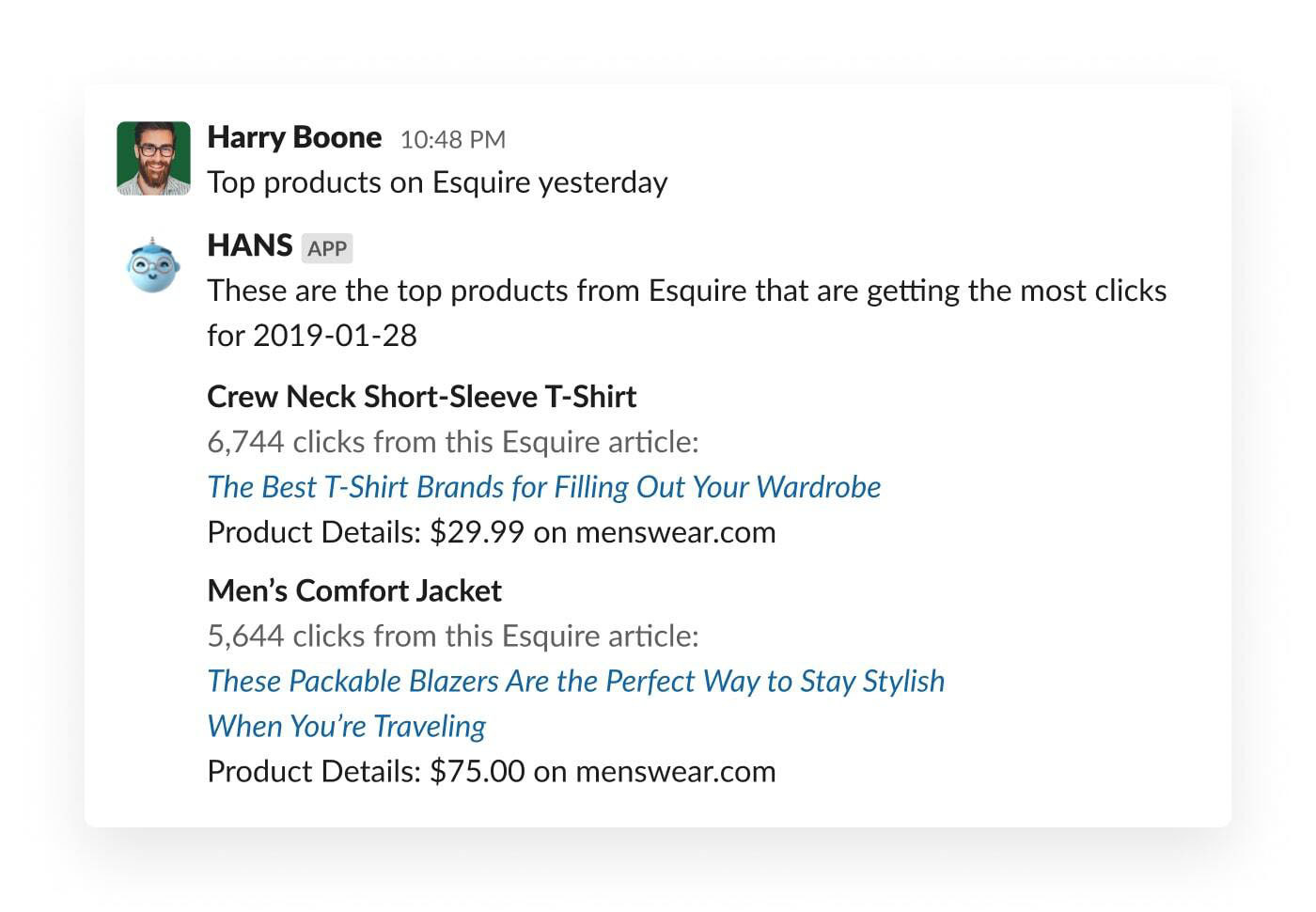 The bot's impact extends beyond recouping minutes. Employees across the division have the data that they need to make more-informed decisions. Of all the teams that use HANS, editorial is 'the most obsessed with data,' Packer says. 'They'll publish content and immediately put it into HANS. It's a whirlwind of information that's constantly flowing.'
When the editorial team is debating how to move forward with a post, for example, they'll consult the bot. 'It helps us make a decision within 15 seconds,' Kanai says. She recognises the value of gut checks, 'but having data to back it up allows me to give our editor a more well-rounded picture of whether something is going to be relevant to our readers.'
Those insights have led to big gains across the division. In December 2019, Hearst experienced record-breaking traffic to its digital sites, with 361 million unique visitors. E-commerce revenue streams are growing across the business and there's been a nearly 50% increase in YouTube views. HANS has played a direct role in some of those advances. The bot fields more than 3,800 enquiries each week, and Solomon says e-commerce revenue from articles cloned across brands has nearly tripled since it was introduced.
How HANS bot streamlines workflows:
Editorial insights: Users ask HANS for the day's top content, dig into traffic data and glean information to make fast, informed decisions.
Product performance: Users can quickly pull lists of affiliate links generating the most revenue for cross-brand syndication.
Executive summaries: Busy executives ask HANS for 'best of' summaries to get a high-level look at top-performing content, commerce, videos and social-media posts.
New-hire information: New employees can ask HANS where to find information such as Hearst's time-off policy. Its simple, easy-to-use interface drives early adoption.
To keep HANS relevant, Sheehan has a monthly forum with the bot's most frequent users to discuss concerns, new functionality and future versions. When building the bot, the product team enabled logs to capture employees' questions. 'That's the beauty of an open-ended chat window,' Solomon says. 'People can literally tell you what sort of product they want, so you can shape it in service of its users.'
'We're sitting on top of dozens of tools – data tools, commerce creation tools and publishing tools – and HANS bot allows us to bring all of those together in Slack.'
Collaborating across brands to build better content
In a company with as many brands as Hearst Magazines, it's easy for teams to stay siloed and unintentionally hoard information. When Slack was introduced four years ago, it became an essential knowledge-sharing tool for more than 3,000 users and opened up new avenues for collaboration, particularly between print and digital teams. 'There was a tremendous boon as we integrated teams from print and digital so they could work closer together,' Siegel says. 'It opened up lines of communication that had been stifled.'
With Slack, Hearst Magazines' 300 editors can now leverage their unique positions in a publishing powerhouse to strengthen content. 'Everybody has access to everybody else's analytics,' Siegel says, 'which allows them to learn not just from the 40 million people that read Cosmopolitan every month but also the 20 million at Men's Health.' Men's Health editors can see how a Cosmopolitan audience is engaging with a story on toxic masculinity and use that to guide their own coverage. Or Women's Health can collaborate with O, The Oprah Magazine on a story about how race affects reproductive health for women of colour.
Slack also helps with logistics and organisation between teams and brands. In her previous role as Chief Fashion Director for Hearst Magazines, Kanai relied on Slack to coordinate projects with creative directors and photographers. 'Slack massively improved our ability to communicate,' she says. From mood boards to image selections to retouch notes, everything is streamlined through Slack. 'It's mind-bending that I ever did it another way,' she says. 'Attaching an image to email sounds like chiselling a stone tablet.'
Hearst's editorial teams rely on Slack channels, digital spaces that organise conversations and projects, to keep their work moving forward. Widely used channels include:
#cover-production: Teams use the channel to coordinate all production aspects of a cover shoot, from booking the celebrity to confirming his or her favourite M&M's.
#ecomm: This cross-brand channel keeps all of the division's teams updated on the latest promotions and deals that might appeal to Hearst's audiences.
#cosmo-US-edit: Each brand has its own channel, which is visible to all other teams. Editors at international editions of Cosmopolitan can check this channel to get a pulse on the US edition.
'Slack opens doors for editors to reach across the aisle. That kind of communication is incredibly valuable because we don't want to silo our talent.'
Taking a pulse to create clickable content
With easy access to both data and each other's insights, editors can effectively crowdsource and audit ideas to create fresh content. 'Creativity is so hive-minded, and with Slack you can pull more people in and build off that excited energy,' Siegel says. This brainstorming approach is known at Hearst Magazines as Slack Law.
Slack Law recognises the power of an idea, topic or question that triggers strong internal interest. 'If our editors are having a conversation that's sparked enough engagement in Slack, it means there's a story there,' Siegel says. For example, when the Popular Mechanics channel was discussing a viral maths problem, 'everybody was fighting over how you could solve it and which scientist or researcher they'd consult.' They pulled the topic out of the channel and published it as a story online; it performed exceptionally well. 'If it's going to engage us in Slack and it's engaging the editors, we know it'll work for our audience,' Siegel says.
When in doubt, editors will take questions and topics directly to readers. They can insert polls in online stories, asking website visitors whether they prefer polka dots or plaid, or watch This Is Us live or via a streaming service. The results are piped back into HANS. These quick gauges of reader sentiment are used to inform content strategy and offer an easy alternative to time-consuming focus groups.
Slack and HANS have flattened the organisational structure at Hearst Magazines, allowing for a more efficient, creative atmosphere that encourages transparency, collaboration and communication. That shift has empowered editors to create the type of content their readers can't wait to consume — and they have the data to back it up.