From channels to search — learn how Slack works from top to bottom!
Want to learn more about setting up your team? Look no further!
Supplemental Slack info for you and your team.
If you're curious about what's new in Slack — and what's changed — you're in the right place.
Adjust your profile and preferences to make Slack work just for you!
Connect, simplify, and automate. Discover the power of apps and tools.
Welcome to Slack! We're so glad you're here. Let's get started!
Tips and tools for beginners and experts alike.
Getting started for workspace creators
If you're interested in creating a new workspace or want some help managing one, this guide was designed with you in mind. 
Don't miss our What is Slack guide if you'd like a refresher before you get going. Or, if you actually want to join an existing workspace, perhaps our Getting started for new users guide is where you want to be instead!
OK, let's go!
Step 1: Create a workspace
So, you've decided to create a workspace in Slack to help your organization get work done. We're thrilled, and you've come to the right place.
First, visit slack.com/create to create a new Slack workspace. All you need is an email address that you can access. We'll walk you through each step, but you can visit Create a workspace on our Help Center if you'd like instructions to follow along.
Ta-da! 👏  You are now the Primary Owner of your workspace. In the following steps, we'll go over workspace administration basics. But before you get to that, you'll want to finish getting yourself set up:
If you need to sign out of our account, it's easy to do. Visit Sign out of Slack to learn how. 
Step 2: Manage workspace settings and permissions
Before you invite members to join on Slack, we recommend you review your workspace settings. Click your workspace name in the top left to open the menu, then choose Workspace settings. Or, go to my.slack.com/admin/settings.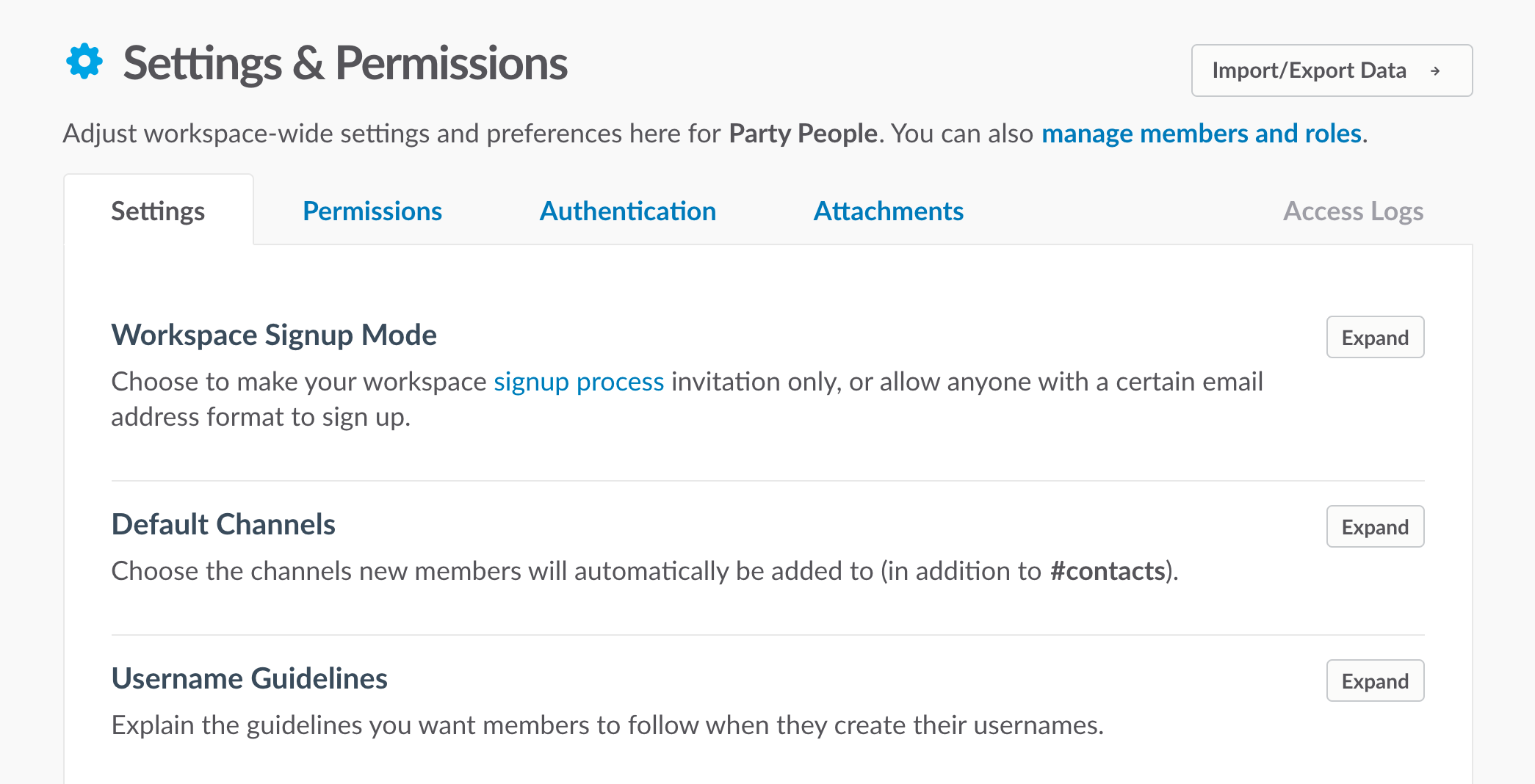 A full list can be found in the Settings and Permissions sections at the link above, but here are a few things you can adjust to start:
Note: The default settings and permissions are Slack's recommended preferences. While they may work for many teams, we understand some may need to adjust to meet their company's needs and policies.

Step 3: Workspace setup and organization
Now that you've adjusted some of your workspace settings and preferences, it's time to build the foundation that will support your future members. 
Organizing channels
In previous guides, you learned that channels are where your team will have most of their conversations in Slack.

Create a new channel naming strategy
Before we go any further, think about how you might pre-establish channel naming guidelines. Not only would this help members find the information they are looking for more efficiently, but it helps keep conversations in each location-relevant and focused.

Start with broad channels for departments

(#design, #finance, #hr) and

office locations (#sf, #paris, #van).

Next, establish channel naming guidelines. Using a standard set of prefixes

(like #help- , #team-, #project-, etc.) keeps channels organized and predictable. If someone is looking for help with their employee benefits, they'd be able to see very quickly what channels were available using the

Quick Switcher.


Did we mention that this is such a crucial element of your workspace's setup? It really is. So we have an entire article dedicated to organizing and naming channels on our Help Center.✨
Set default channels for new members
To start off, you'll notice you have a #general and #random channel. Feel free to rename them to whatever you'd like.

Since #general is the default channel for all new members, we recommend you use it as your company announcements channel (e.g. #announcements, or #announcements-global if you chose to make #announcements- a channel prefix).

Now that your workspace has a channel for #announcements and some other broad topics, you can set default channels that all new members will join when they create an account in the workspace.

Enhanced features
Slack can be used on the Free plan for as long as you'd like, but there are some additional features on paid plans. Here are some popular features you might consider at this stage.
Single sign-on gives your members access to Slack through an identity provider, like G Suite or Okta.
User Groups give you the ability to notify entire departments or groups of people at once (e.g. @marketing-team or @managers).
Guest access allows you to give guests limited access to your workspace. This feature is perfect for contractors or external vendors who you would normally communicate with by email.
Shared channels are a secure, common space where members can collaborate and communicate with another organization's Slack workspace without leaving Slack. 
Custom retention policies

help you manage messages and files.

Step 4: Invite members to your workspace
It's time to bring your workspace to life now that the setup basics are complete — let's go over inviting new members!
By default, any member or admin can invite new members to your workspace. Workspace Owners and Admins can restrict who is allowed to send invitations if they choose.
There are two ways to invite new members to your workspace:
Send an email invitation
It's as easy as it sounds! Just enter an email address (or multiple at once), along with the full name of the person you'd like to invite. You can choose the type of role they should have (e.g., Owner, Admin, member — or Guest, if you're on a paid plan).


Allow email signup
With email signup enabled, anyone with an approved email address domain will be able to create an account for your workspace.
---
Invited members
When someone has been invited to a workspace but hasn't accepted their invitation, other members can add them to channels, @mention them, and send direct messages. They'll receive an email notification when this happens, and will soon be able to send replies to Slack via email. 
Once an invited member accepts their invitation, they'll see channels they were added to and their direct messages in Slack so they can pick up conversations where they left off. 

Step 5: Apps and tools for your workspace
Slack lets you connect all of the tools and services you use for work in one place, eliminating the need to constantly switch between apps.


Add apps to your workspace
You can find apps for services you already use directly from our App Directory — everything from helpful bots, communication tools, payments & accounting, project management, HR, and more.
Go ahead, browse our App Directory. There are hundreds to choose from! When you've found an app to install, we'll prompt you along so you don't get stuck.
Note: For more, visit Add an app to your workspace on the Help Center for detailed instructions. 🤖

Build internal integrations for your workspace
Unlike the ready-made apps found on the App Directory, internal integrations can be custom built for your workspace, by people in your company. Building your own integrations does require technical know-how, but the benefits are endless.  
Leverage existing internal tools and services your company uses to work together.

Route notifications from other services into Slack to centralize communication.

Tie data and information from various systems together in Slack to improve complex cross-system workflows.

Bring people together, increase the visibility of work getting done, and make more informed decisions as a unified team.
If this sounds interesting, visit Customize Slack with internal integrations on our Help Center for information.

What's next?
We hope that was helpful! Now that your workspace is set up for success, hop over to Working in Slack. We'll show you how to use search, hold meetings with Slack Calls and Videos, and how Slack can make your entire team more productive overall.
Or, you can learn more in our Help Center. 🐙
Get trained! We offer a free, interactive training app you can add to your workspace. Open to all members, use the tutorials to learn how to use Slack effectively at work. Add the Slack Foundry app.🏅
Hello! Our Support team is available 24/7 and always happy to help. Get in touch with us if you ever need a hand!