A guide to sharing channels with Slack Connect
Slack Connect allows members of your organization to work with people from outside your company. By moving conversations out of emails and into Slack channels, you can work securely, quickly, and collaboratively with partners, vendors, or customers. Read on for an overview of working in channels using Slack Connect.
What to expect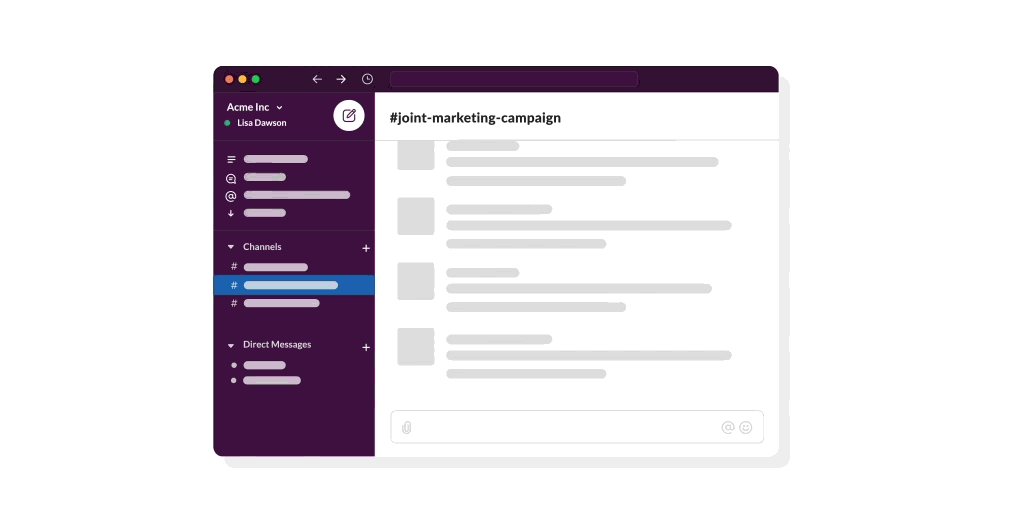 Note: Book a free 20 minute call with an expert to help you get started working with your partners in Slack.

How to share a channel
Tip: If you have partners not yet using Slack or using the free version, you can invite them to try Slack Connect for free for 90 days.

Work with other organizations in channels
Whether your organization owns a channel or was invited to share it, read more about what to expect when working with people from other companies in Slack.
Security 
Slack Connect provides a secure way for organizations to communicate and collaborate together. Read more about Slack Connect security and data policies and Slack's enterprise-grade security.

Channel ownership
An organization either owns a channel or is invited to share one. Channels that originate from your workspace or Enterprise Grid organization are owned by your organization. Only the channel owner can invite organizations to share it, remove other organizations from it, and continue using the channel if it's no longer shared.

A centralized page for Slack Connect
Click  Slack Connect at the top of your left sidebar to view the channels you're sharing, send and accept invitations, find Slack Connect resources, and more. Depending on your role and permissions in Slack, you may also find key actions to manage Slack Connect for your workspace or Enterprise Grid org.
Note: This feature is gradually rolling out. We appreciate your patience as we release it to all customers.

Identifying channels that are shared
A shared Slack channel will be marked with a  diamond icon. You'll see this icon appear in most places where a channel name is visible in Slack.

Viewing member profiles
Profile photos for people from other companies will be marked with their organization's Slack icon in the bottom-right corner. You can view some of their profile information, but you won't be able to see custom profile fields or their statuses.

Using custom emoji
You can use your workspace's custom emoji like you would in any other channel. People from other companies can see your workspace's custom emoji, but can't use them in their messages or as emoji reactions.

Sending direct messages 
People from different companies working together in channels can send each other direct messages (DMs). To create a group DM, everyone in the conversation must share at least one of the same channels.
Using apps and workflows
When using apps and workflows in a channel that's shared, here's what to expect:
Workflows can be used by anyone in the channel.
App shortcuts are available to people from other organizations if an app is installed to their workspace. When people take an action from an app shortcut, it will only apply to the account they've connected to the app. 
Apps added by another organization will include that organization's Slack icon next to the app name. Only people from the organization that added an app can remove it from a channel.
People in the channel can see messages from bots and apps. They can also exchange messages with an app's bot user if it's been added to the channel.
Custom apps and slash commands created for your workspace can only be used by members of your organization.
Who can use this feature?
By default, all members (but not guests)
Standard, Plus, and Enterprise Grid plans