From channels to search — learn how Slack works from top to bottom!
Want to learn more about setting up your team? Look no further!
Supplemental Slack info for you and your team.
If you're curious about what's new in Slack — and what's changed — you're in the right place.
Adjust your profile and preferences to make Slack work just for you!
Connect, simplify, and automate. Discover the power of apps and tools.
Welcome to Slack! We're so glad you're here. Let's get started!
Tips and tools for beginners and experts alike.
Slack updates and changes
See what's new in Slack and what we're gradually rolling out. ✨
October 2019
Automate everyday tasks in Slack with Workflow Builder
Workflow Builder offers a simple set of tools anyone can use to automate routine processes — no coding required. Create a workflow to collect information, share it with the right people, and move work along without leaving Slack. Check out our example workflows, or visit the Help Center to learn more.
Other news
Workspace Owners and Admins on Standard and Plus plans can now edit usernames in the same way they can edit emails, full names, and display names.
Install the new Salesforce app for Slack to connect Slack with Service Cloud or Sales Cloud, send Salesforce alerts for record or object updates to channels, attach Slack messages to records in Salesforce, and more.
The default image for members without a profile photo has changed. Take a look below, and learn how to upload a profile photo.


September 2019
It's official: shared channels are here
With shared channels, Slack offers a better way to work with people outside your company. They work just like normal channels, only they connect two separate organizations together, bringing the right people into the same place, no matter where they work. Read our blog post and visit our Help Center to learn more.

Dark mode comes to desktop
Slack just got a darker look! Dark mode on desktop has arrived, making it possible to switch to a darker color theme. You can now ease your eyes across all the devices you use Slack on — not just our mobile apps. Learn how to use dark mode.
A new way for members to request invitations
Workspace members (but not guests) can now request invitations for others directly in Slack. Workspace Owners and Admins can approve or deny requests in a dedicated Slack channel or via a Slackbot message.

Other news
You can now search for people in your workspace by the email address listed in their Slack profile.
On the iOS app, use the new   three horizontal lines icon to access your channels and direct messages in the sidebar list.
On Android 9 or higher, a message reply you start writing from the phone's Notification Shade will be saved in the mobile app.
After a bug fix, notifications on the iOS app now clear individually, and only after you've read the associated messages.
August 2019
Simplified channel naming
Help your team's work in Slack stay organized with channel prefixes. Members can now choose from a set of standard prefixes when creating or renaming channels. Plus, Workspace Owners and Admins can add or delete prefixes to suit their teams' needs. Learn more in the Help Center.
Easier app management for Enterprise Grid orgs
Enterprise Grid Org Owners can now set app management policies for all workspaces in their org at once, or use an API to manage apps at the org level. Visit our Help Center for more details.
Changes to Transport Layer Security (TLS) in Slack
On February 19, 2020, Slack will discontinue support for TLS versions 1.0 and 1.1 to align with industry best practices for security and data integrity. After this date, requests sent to Slack from any service that hasn't been upgraded to TLS 1.2 will fail. We'll be contacting all customers who are affected by this change, which you can read more about in our Help Center. 
A new and improved way to disconnect shared channels
When a project ends or a channel is no longer needed, Owners and Admins can stop sharing it with an external organization without disrupting members from collaborating in other shared channels and direct messages. If two organizations no longer need to work together, Owners and Admins can stop sharing all channels to break their connection.
Introducing longer channel names
To allow for more channel naming flexibility, we've extended the character limit from 21 to 80. Learn more about creating channels.


Search for people in Slack
Ever needed to find the right person to talk to, but weren't sure where to start? Now you can search for people you work with by name, title, profile information, or things they discuss in Slack. Learn more about search and the best way to find the information you need.

Other news
Org Owners on Enterprise Grid can choose the email address that members see if they try to create a new workspace using a claimed domain. 
Now, when you tap and hold a message on iOS or Android, you can start or reply to a thread from the menu. You'll also see your top five most frequently used emoji reactions.

When you're working in a shared channel, you'll see the external organization's name just above the message field.

July 2019
Secondary authentication now available for Enterprise Grid orgs
Get an extra layer of security with Slack's latest addition to mobile security for Enterprise Grid. Org Owners and Admins can now require members to use a secondary form of authentication — a passcode, fingerprint, or facial scan — when accessing Slack on mobile devices. Learn more.

Changes to SSO setup permissions for Enterprise Grid
On Enterprise Grid orgs, only Workspace Owners and Org Owners have the ability to set up single sign-on (SSO). Workspace Admins and Org Admins no longer have this permission.

Formatting posts made easy
Create and edit posts more smoothly with faster loading times and updated formatting options for a more polished look and feel. Please note that the ability to create public posts (to share outside of your workspace) is no longer available.
Onboard new teammates more efficiently
When you invite a new person to Slack, you can immediately start working with them. Add invited members to channels, @mention them in messages, or send a direct message. Read more about how this works.
Upload custom emoji from Slack and search by creator
Add custom emoji directly from the Slack desktop app by clicking the smiley face icon in the message field, then the Add Emoji button. Plus, visit your workspace's Customize page to search for all the emoji you or another member have created.
Sync your Slack status with Google Calendar
Let your team know when you're in a meeting by automatically updating your Slack status based on calendar events — without leaving Slack. If you already use the Google Calendar app for Slack, tell your team about this new feature. If not, install the Google Calendar app to get started.
Limit who can post in channel
We've made it easier to keep large announcement channels on topic and free from distraction by giving you better control over who can post in channel. Learn more.

A smoother, faster Slack experience
The latest version of our desktop app provides a smoother, faster experience for all. Some notable changes include faster loading times, better overall performance and the ability to work offline. Download the latest version of our desktop app.
What's new
Limited offline support — set your status, star items, and react to messages when you don't have an internet connection

Less memory usage, better performance

Faster loading times

Improved Slack calls




Other notable updates
Click the new  paper clip icon in the message field to add attachments

A redesigned autocomplete menu for

@mentions

and

slash commands

No more loading messages — Slack loads too quickly for them to be readable

Visual improvements to the activity view, Quick Switcher, and channel sidebar

Unread message activity

displays as a dot on the top-right of your workspace icon

Member profiles

have a bigger profile image and include the option to message or call the individual

Drafts

sync across Enterprise Grid workspaces

Other news
We've added

back and forward buttons next to the

Jump to

section in the sidebar allowing you to navigate through your channel history with ease.

Slack calls have a new look! Our new interface makes it easy to see who's joined meetings and when they started.
App Release Notes: Dive into the details! 🚀
Mac | Windows | Linux | iOS | Android

June 2019
Whitelist specific Slack workspaces
IT admins can now limit connections to an entire Slack org or to a list of external workspaces. This allows them to prevent people on their network from signing in to non-whitelisted workspaces. Learn more.

Shared channels beta available on Enterprise Grid
On Enterprise Grid, you can start collaborating with external organizations, just like you would with teams in your own org. If you're an Org Owner or Admin, learn how to use shared channels and manage settings and permissions.
Internal shared channels are now multi-workspace channels
Channels that connect separate workspaces within a single Enterprise Grid organization are now called multi-workspace channels.
Improved app administration
Admins of workspaces with Approved Apps enabled will now be prompted to review any apps requesting new permissions, even if they were previously approved.
Compact layout for images and files
Good news! Now you can add up to 10 images and files at once in Slack. As an added bonus, multi-file uploads will appear in a nice, neat grid for your viewing pleasure. ✨
Keep track of draft messages
Pick up where you left off, with drafts in Slack. If you have any unfinished or unsent messages, you'll see a list of the related channels or DMs under the Drafts heading at the top of your sidebar.
May 2019
Easier custom emoji management
We've made it easier for Admins to manage custom emoji by adding two new ways to sort them — by name and by date added. Head to your workspace's Customize page to check it out! 🎉
April 2019
Slack is available in three new languages
We've added Brazilian Portuguese, Latin American Spanish, and UK English to the list of languages we support! Simply update your language preference to use Slack however it's most comfortable for you.
More pleasant app management
Now, if a member who installs any of the 20+ Slack-built apps leaves your company, these apps will remain active instead of deactivating unexpectedly. More apps will be added to this list, so keep an eye on our Help Center for the latest.
Office 365 apps for Slack
Update your Slack status based on your calendar, respond to meeting invites, send emails into Slack, and more with the new Office 365 apps for Slack. Get the apps to connect Slack with the O365 tools you use every day.
Gmail add-on for Slack
Facilitate collaboration between teammates and make relevant information visible to all stakeholders by sending emails to Slack channels and DMs directly from Gmail. Install the add-on to get started.
March 2019
Channels now appear in search
Search results now include a new tab dedicated to channels, making it easier to discover new channels across your workspace(s). Find key conversations and files, and the channels where they live.

Introducing Slack Enterprise Key Management (Slack EKM)
Security-conscious and regulated organizations can now manage their own encryption keys. Learn more about Slack EKM, a new security add-on for the Enterprise Grid plan.

Mobile Security updates for Enterprise Grid
In addition to file downloads, Org Owners can also block members from copying content to unmanaged mobile devices. Learn more about Mobile Security for Enterprise Grid orgs.

Updates to our supported browsers and operating systems
To focus on delivering the best Slack experience possible, we've updated the minimum requirements for our supported browsers and operating systems. Read more about the minimum requirements for using Slack.

Dark mode for mobile
Dark Mode has arrived for Slack's iOS and Android apps. Ease your eyes by switching to a darker color theme for reading and writing — especially in low-light settings. Learn more.
A smoother sign in experience for desktop
When you sign in to the Slack desktop app, you'll be asked to authenticate from your browser. This allows you to use password managers or other two-factor authentication hardware to easily access your account. If you're already signed in to Slack on your browser, you'll be automatically signed in to the desktop app.

Refreshed emoji reactions
We gave our beloved emoji reactions a fresh new look. You'll notice a more rounded style, which is not only more modern, but also more forgiving for custom emoji.

Microsoft Office file previews
If you share Office files in Slack, we've got exciting news: you can see a full preview of Powerpoint, Word, and Excel documents right from your workspace, no download required! Upload an Office file to give it a try.

Other news

February 2019
Build with Block Kit
Create or update custom apps with Block Kit — a UI framework that makes it easier to build powerful, intuitive apps for Slack. Check out the Slack Platform Blog for more.

Say hello to Slack Tips
Browse the Slack Tips library for step-by-step guides that can help you get the most out of Slack.
Note: Slack Tips are currently only available in English.

Improved import speed and performance
If you're importing data to Slack from Hipchat, Stride, a CSV file, or another workspace, you'll notice a faster, more seamless experience.
January 2019
Mobile security features for Enterprise Grid orgs
On an Enterprise Grid org, Owners and Admins can protect their organization's data by blocking file downloads to unauthorized devices. This feature does not require set up with an Enterprise Mobility Management (EMM) provider. Learn more.

Fewer unexpected app removals, less disruption
Deactivated member accounts used to result in the unexpected removal of any apps they installed. We've made it harder for these kinds of surprises to happen: app features like bot users, commands, actions, or incoming webhooks will remain active, even if the installing member is deactivated. With fewer disruptions, your workspace can keep humming along. Learn more.

Two Google Calendar apps to choose from
Our Slack App Directory now offers two Google Calendar apps. Designed for personal use, Google Calendar helps you keep track of your work schedule. For teams that collaborate together, Google Calendar for Team Events brings a shared calendar into Slack. Learn more about connecting Google Calendar to Slack.

Introducing our new logo
We've given our logo a fresh coat of paint! Read all about why we refreshed our look.

Improved import flow for merging workspaces
If you're merging two workspaces together, we've made it easier to combine matching members and channels. Read more about importing data from one workspace to another.

Workspace migration approvals
To streamline the migration process, Org Owners can now approve or decline all upcoming migrations from the Admin Dashboard. Read more about moving workspaces to an Enterprise Grid org.

New subdomains for reliability
As part of our commitment to reliability, we've added new subdomains that will be rolling out slowly over the next few weeks. If your organization whitelists specific subdomains, learn more about managing connection issues.

December 2018
Compressed file uploads on mobile 
To improve the experience of uploading files to Slack on iOS and Android devices, the size of JPG files are automatically compressed.

November 2018
Get updates on Slack's availability 
To keep everyone informed, we share updates about service availability and uptime through Slack Status. Now you can subscribe to receive service alerts via Atom or RSS feed.
Access and share your OneDrive files from Slack
If you use Microsoft's OneDrive to host and manage your files, sharing them to Slack just got easier. Using the  plus icon next to the message field, add a file from OneDrive without ever leaving your workspace.
More options for Do Not Disturb
Now you can pause your notifications with Do Not Disturb (DND) for as long as you'd like. Choose a preset option, or enter a custom time frame of your choosing. Although you won't get alerted while in DND, all of your notifications will be waiting for you when you return. You won't miss a beat! 🎵
Import Stride data to Slack
Back in July, Slack and Atlassian announced a new partnership. We're excited to share, in addition to Hipchat, you can import your company's Stride data to Slack. Get started!
Sign in more easily from mobile
Now it's much easier to sign in to your Slack workspace on mobile. Enter your email address when signing in, and select the workspaces you want to launch in your mobile app.
Improved mobile in-app notifications
Never miss an important update or conversation again. With in-app notifications for direct message and @mentions, you'll now receive notifications even when you're in the mobile app.

September 2018
Grouped notifications for iOS 12
If you're using iOS 12, you'll notice some nifty updates to your Slack notifications. They're now grouped together by channel or direct message (DM) in the Notification Center, making it easier to catch up while on the go.📱

See new replies to threads
Keeping up with threads just got a bit easier. When someone replies to a thread (and sends that message to the entire channel), you'll now see when additional replies are added. Learn more about threads.

August 2018
Set your status, and forget it!
The next time you set a status, choose exactly how long it will display: once it expires, it will automatically clear. Read more about setting a status in Slack.

Slack demo: see where and how work happens
As your collaboration hub, Slack brings your team and your tools together. Visit slackdemo.com to see exactly how it works!

Fresh updates to help you manage custom emoji
When you create a custom emoji, we'll now automatically resize the image file for you. You can also replace or edit emoji your teammates have added — simply search for them by name!

Reply to Google Drive comments in Slack
If you use Slack with Google Drive, we've got exciting news: you can now reply directly to comments on all your Drive files without leaving Slack. Visit our Help Center to learn more, and check out our blog post too.

Message actions for apps now on mobile
Kick off the next step in your work, even when you're on the go! Some apps come with built-in shortcuts called actions: they help you quickly move work from Slack messages to a connected app. Learn more about using actions on mobile.

July 2018
Atlassian + Slack
We've forged an exciting new partnership with Atlassian — we're officially welcoming Hipchat and Stride users to the Slack family! Hipchat users can start moving to Slack today: simply export your data from Atlassian, then use Slack's import tool to choose which users, rooms, and messages to bring into your Slack workspace. Learn more about importing Hipchat data to Slack and check out our Slack Guide for Hipchat users.
The ability to export Stride data to Slack is coming soon! Stay tuned. 📻

Threads support files—and files support threads
Images and files can be uploaded directly to threads by adding files as you normally would. And instead of posting to the bottom of the channel, replies to files will stay neatly nested in a thread — just like message threads.
Old file comments posted in channel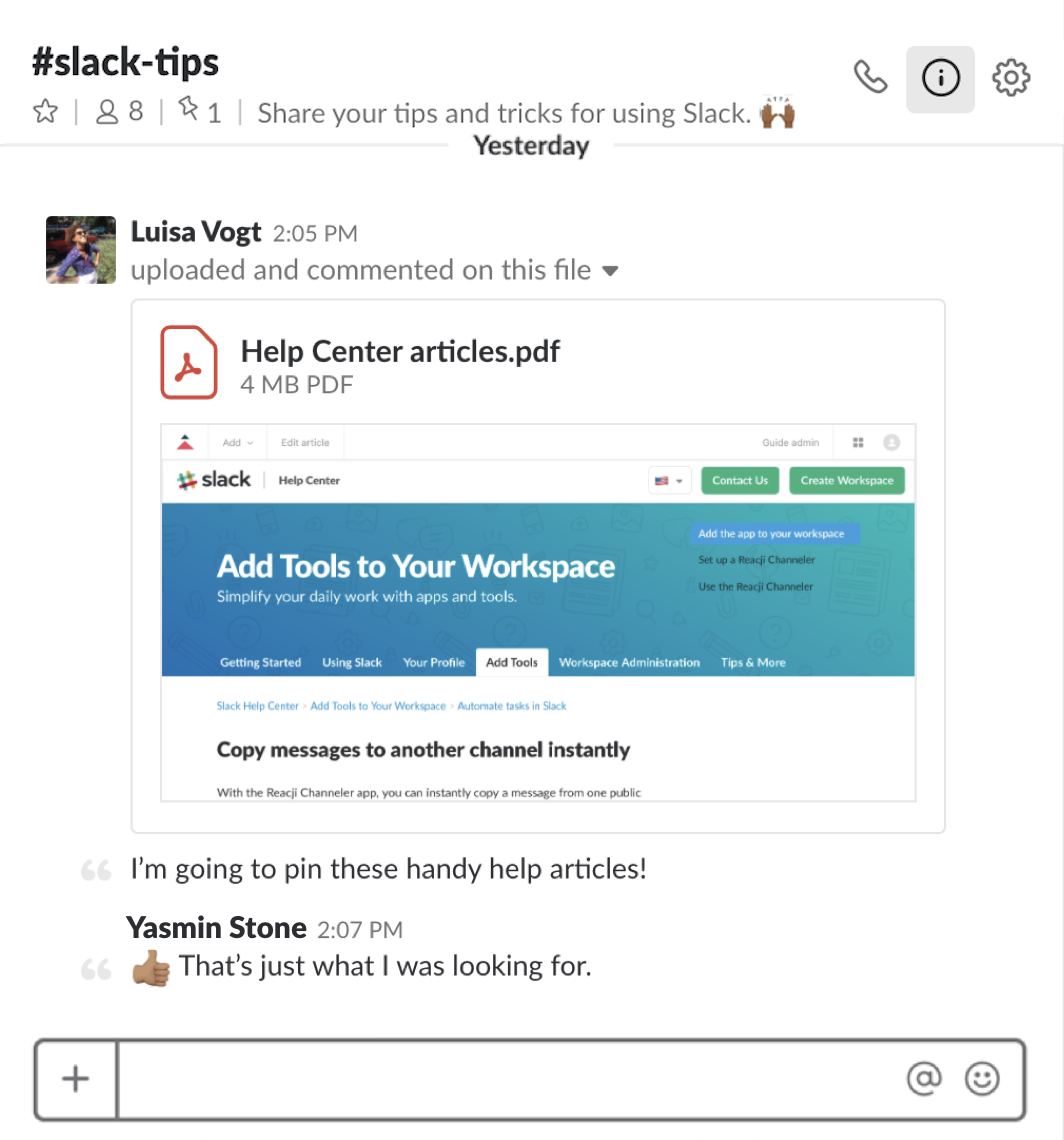 New file replies stay in threads

View Enterprise Grid migrations in progress 🍿
Moving workspaces over to an Enterprise Grid organization? Stay in the loop by monitoring the migration's progress.

Search in Slack has a new look
Finding your files and messages is easier than ever. See your search in a full-screen window with clickable filter options to sort results by people, conversations, date, and more. And all the search modifiers you already know still work! Learn how to search in Slack.
Other news
You have the option to add a send button to your message field, allowing you to use the Enter key to create a new line of text.
Refine data exports by selecting the date range you're most interested in.
We've made updates to the Audit Log API that gives Enterprise Grid customers more insight into access events related to app activity, like who requested or approved an app for a workspace.
New security features: Build more secure apps with Request Signing & Mutual TLS.
June 2018
Update to Slack for Desktop 3.2.0
The latest Slack desktop app is here! Get ready for fewer pesky unread badges, better calls, quicker switching for Enterprise Grid — and even more. Read the release notes for a full list of what's changed.
Create links to guide people to a member's profile
With our API, create links (or deeplinks) and share them in your employee directory, email signatures, or company newsletters! Learn how.
Troubleshoot mobile notifications from the app 
We've built a new tool for troubleshooting and fixing mobile notification issues. Find it under the Notifications section in your mobile Slack app's Settings.
Other news
Your channel list on iOS now more closely matches your Desktop sidebar.

You may see channel names briefly appear as grey bars when launching Slack — don't be alarmed, this helps Slack load faster for large workspaces.

When navigating Slack by keyboard, pressing F6 will focus on a single message, rather than the whole message window. 
You can use familiar keyboard shortcuts to format your messages.

May 2018
Message actions for apps
Turn your conversations into action: create a task, comment, or follow-up from any Slack message. Message actions for apps make it quick and simple to kick off the next step in your work, so nothing gets lost as you go about your day. See how they work!

IRC and XMPP gateways are now closed
Gateways can no longer support all of Slack's features, so we've made the decision to close them. If you've been using gateways for accessibility reasons, you can continue to navigate Slack by keyboard and with a screen reader, and use VoiceOver (Mac) and Narrator (Windows) to read your messages.

Updates from our Platform and App Directory
Receive a courtesy confirmation before deactivating an app on your entire workspace. You can even transfer apps from deactivated members to new owners.
Introducing workspace apps: installed at the workspace level, they're built for the way your team works, offering more flexibility and improved app management.

Other news

April 2018
Workspace Directory redesign
Searching for workspaces to join on an Enterprise Grid org just got a lot easier. Find out where your teammates are working by searching their name or email address.

Other news
We've added new ways to interact with app dialogs. For instance, you'll find new menu types that allow you to select members, channels, or conversations. Visit Slack API for more.
App Release Notes: Dive into the details! 🚀
Mac | Windows | Linux | iOS | Android

March 2018
Manage apps on Enterprise Grid
The Admin Dashboard lets you manage apps installed across the org. Easily review an app's permissions or uninstall from a central location.

Quicker switcheroos
The Quick Switcher got a makeover. It's quicker and sleeker. And now it helps you switch between channels in other workspaces if you're on the Enterprise Grid plan. See how it works!

Updates to our Privacy Policy and tools
We're committed to helping teams around the world work better, together. As part of our growth and to support changes to EU data protection law, we've updated our Privacy Policy and User Terms. We've also made some changes to our export tools and made it possible to remove profile information for deactivated members.

Audit logs on Enterprise Grid
A new API method is available on the Enterprise Grid plan to help proactively protect an organization. Visit the Help Center or Slack API for more.

Admins can delete private channels
Workspace Owners and Admins can delete public and private channels that they have been invited to join. Simply follow the same steps to delete a channel.
February 2018
Customize your Terms of Service on Enterprise Grid
If you've set ground rules for your employees to use Slack, now you can make them visible when members sign in. Learn how to create a custom Terms of Service for all of your members and guests.

Retention settings with clearer descriptions
The design and language used to describe workspace message retention settings now give you a better understanding of the choices available. Read how to customize message and file retention policies.

Suggestions to archive idle channels
To help you increase focus and decrease clutter in your channel sidebar, Slackbot will periodically suggest channels you may want to archive. They're just suggestions, so take 'em or leave 'em!

Updates to emoji in Slack 🆕
Slack has updated its emoji set.

Slack now offers 

Emoji 5.0

, which includes the latest additions to 

Unicode 10.0

.

Your emoji style may change.

The emoji you see in Slack are based on your device's operating system. Use a screen reader?

Convert emoji to plain text

.

Emoji names are translated. The names for emoji have been translated into Slack's current languages: French, German, Japanese, and Spanish.

Other news
To make it easier for members to find and join workspaces on your Enterprise Grid organization, we've made the default workspace access preference By Request. Learn how to manage workspace access.
On Enterprise Grid organizations, members no longer see Guests and bots that exist on workspaces they haven't yet joined in the Org Directory and Quick Switcher.
We've made some behind-the-scenes enhancements so search works even faster. ⚡️
App Release Notes: Dive into the details! 🚀
Mac | Windows | Linux | iOS | Android

January 2018
Apple Watch users: one iOS app for all your needs
Everything you could do with the standalone Watch app is now done through the iOS app: rest assured, receiving and replying to messages from your wrist works the same as before. It's like two for the price of one, but with apps.
New channel sidebar preference for Slack Enterprise Grid 
Group all of the channels shared across your Enterprise Grid organization in your sidebar under the header Organization Channels. To adjust, open Preferences, click Sidebar, then head to the options under Sorting and grouping.
Find stuff faster with improved search suggestions
Click the search bar to see your recent searches, or type a search term and Slack will show you related channels, members, and file matches. Just select a suggestion to quickly jump to the item!
Default channels for Slack Enterprise Grid
It's even easier to get your members on the same page — and in the same channels! Org Admins can automatically add every member (excluding guests) to channels shared across your entire organization. Create a default channel.
Private shared channels (beta)
Create both private and public shared channels to communicate with vendors, agencies, or clients in Slack. Each party can choose the level of privacy for a shared channel on their workspace.
New and improved shared channel management
A central, convenient place to view all of the external workspaces yours is connected to. Or, easily create, view, and stop sharing any (or all) shared channels. Click here for details!
See emoji as you type 👍
Emoji codes (like :thumbsup:) convert into the actual emoji as soon as you type them out in your message. Voila!
December 2017
Ding! Desktop 3.0.0 is ready ⏲
The latest Slack desktop app is fully baked! This version loads faster and uses less memory. Sweet, right? Read the release notes for a full list of what's changed.

Better shared channel management
Now Workspace Owners and Admins can cancel, decline, or accept pending shared channel invitations. To access, click Channels in the channel sidebar to browse all channels, then choose Show all shared channels (beta).
November 2017
The Slack app is available in Japanese! 🌸
Learn how to select your preferred language in Slack. Need some extra help? You're welcome to email us to speak to our Japanese speaking Support agents anytime. Domo arigato!

Self-serve invoices
If paying for Slack by credit card isn't ideal, the option to pay by invoice is available for eligible workspaces. Read more about how it works.
Helpful loading messages from Slack
Sometimes Slack needs a bit of time to load. If you're like us, productivity is paramount. So, turn on helpful tips while you wait!
App Release Notes: Dive into the details! 🚀
Mac | Windows | Linux | iOS | Android

October 2017
Share control of your screen During any Slack call, share control of your screen to co-edit documents on the spot. Or simply let others click, draw, and navigate!

The latest Slack Enterprise Grid updates and features:
Remove access to shared channels. Did you share a channel with too many workspaces in your Enterprise Grid organization? Well, good news! Now you can remove workspaces from a shared channel. Learn how!
Invite onlyworkspaces. Members can see invite only workspaces exist, but they'll need an invitation to join. Manage workspace discovery and access.

Redesigned search. Smarter, faster results.
Try the new All view to see search results that are most relevant to you: messages, files, and people included! Learn more about sorting through search results in Slack.
App Release Notes: Dive into the details! 🚀
Mac | Windows | Linux | iOS | Android